Carrot raisin muffins are a healthy and delicious snack or breakfast treat to have on hand.  They are paleo, nut free, and refined sugar free as well!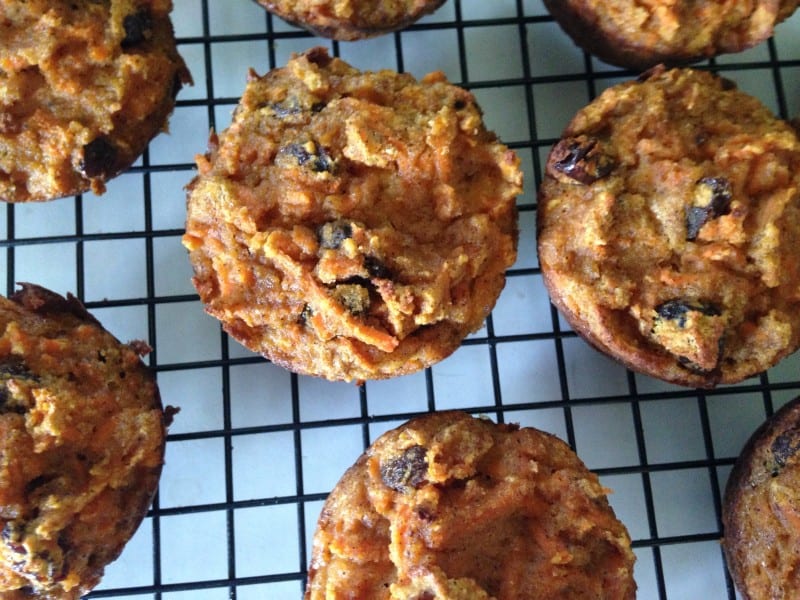 I really don't make muffins often enough considering how simple, delicious, and portable they are. Every time I make a new batch I suddenly want them every day and start thinking up a bunch of new combos! These are the current favorite, with a whopping everyone-in-my-family-including-the-picky-one loving them.  I think the secret is that they smell a little like pumpkin pie.  Add the raisins in and we have serious yum over here! Time for a third batch this weekend?  Quite possibly that will happen.  As long as I didn't already use up my carrots, I'll have to check on that.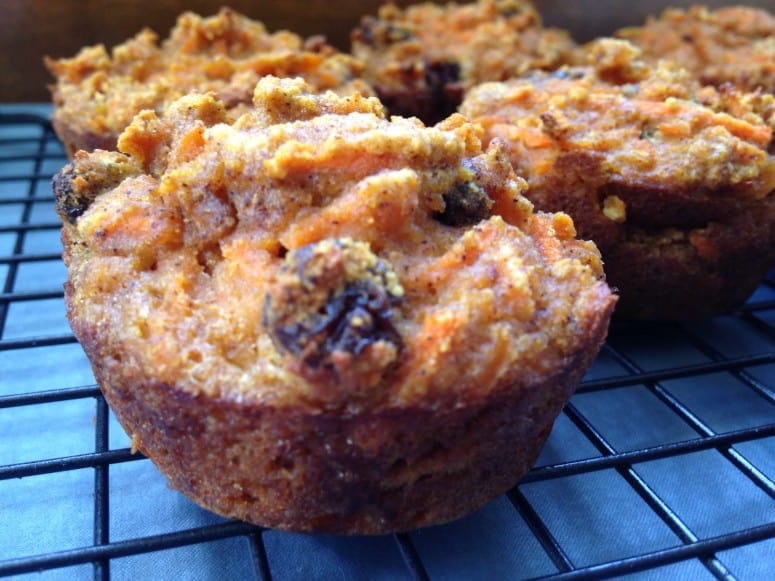 No one in my family is allergic to nuts, but nonetheless we need nut free snacks to take to school, since my kids' classrooms don't allow anything brought in containing nuts due to others with allergies.  These were perfect to send in for morning snack and lunches, because my kids understandably get really tired of bringing in an apple and cheese stick every single day.  Just another incentive for me to figure out some new nut-free muffin recipes that actually make it to snack time without turning into a crumbled mess!  Two different batches and a couple of trips to school and they survived, at least according to my daughter.
For breakfast, snack, or dessert, these soft, sweet, healthy and filling muffins will definitely be a staple in our house! Hopefully they'll become one in yours too!
Carrot Raisin Muffins - Paleo + Nut Free
Spiced carrot raisin muffins that are paleo, nut free, and refined sugar free! Perfect as a part of breakfast, for snacking or dessert.
Prep Time: 15 minutes
Cook Time: 25 minutes
Total Time: 40 minutes
Course: Paleo snack/treat
Cuisine: Nut Free, Paleo
Servings: 10 muffins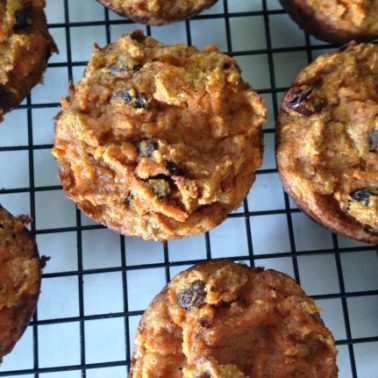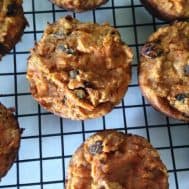 Instructions
Preheat your oven to 350 degrees, and grease a muffin pan with coconut oil

In a large bowl, combine the eggs, coconut milk, maple syrup, and vanilla until smooth

Carefully stir in the coconut flour, baking soda, baking powder, salt, cinnamon, nutmeg and ginger until fully combined. The batter will be thick, more like a dough.

Stir the grated carrots and raisins evenly into the mixture.

Spoon the batter into the greased muffin cups about 3/4 of the way up - they will not rise much

Bake in the preheated oven for 25-30 minutes or until a toothpick inserted in the center of one comes out clean

Remove from oven and let them sit for a minute before removing to cool completely on a wire rack. Makes about 10 muffins.

Serve right away or store them in a covered container.

Enjoy!
And…Friday.  Here it is!  Another week flew by and there's busy weekend in store for us.  We have Drew's birthday party tomorrow (his actual birthday is April 30 and he's turning 4, oy!) another birthday party, dance pictures for my daughters, and planning for some running and yoga too.
I've decided to start combining my Saturday and Monday posts into one by doing a recap on Monday of the previous week's workouts (yoga links included) plus some weekend things, so, have an awesome weekend and I'll see you on Monday!
What's your favorite kind of muffin to bake?  What about to eat? 
Plans for the weekend?