Everyone will love this recipe for rich and gooey yet healthy Caramel Chocolate Chip Paleo Blondies!  Made with cashew butter, almond flour, and an easy dairy free caramel, they're gluten free, grain free, dairy free, soy free with no refined sugar.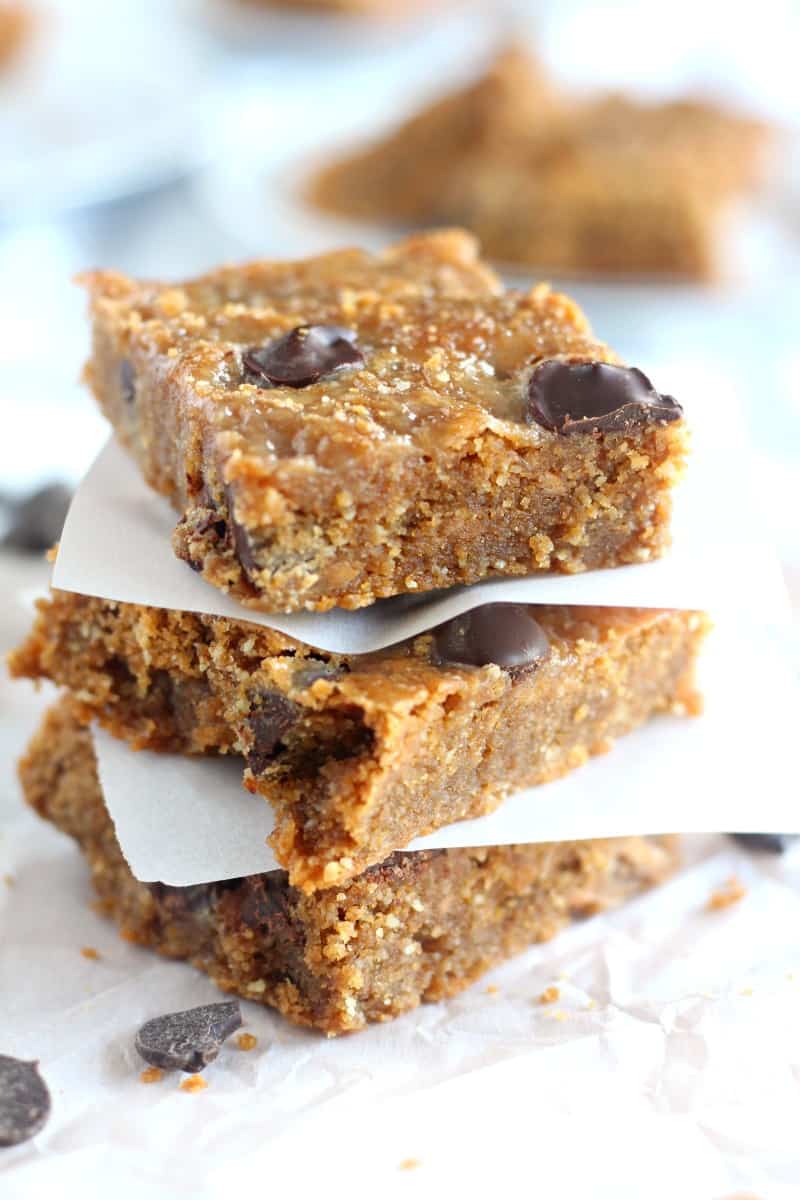 Happy Friday!  This felt like the shortest week ever for me with the Boston Marathon Monday and I'm still out of sorts.  I'm still riding the high of finishing the race and also absolutely starving every minute of every day, if that's possible.
Truth be told, it feels good to NOT run, have no running plans in sight and focus on creating more delicious recipes!   Aside from it being a short week, this is also the first Friday in what feels like forever, that I won't be anticipating a long run the following day – and let me tell you – how sweet a feeling that is!  I mean, it actually feels like a real Friday – woohoo!
No running clothes set out, no headlamp, no worrying about what I'm eating, no planning out logistics or trying to go to sleep early. No weather stalking!  I'm gonna party like it's 1999!  (Okay fine that's a bit out of my league at this point.)  Point is, I'm in heaven, THIS is heaven!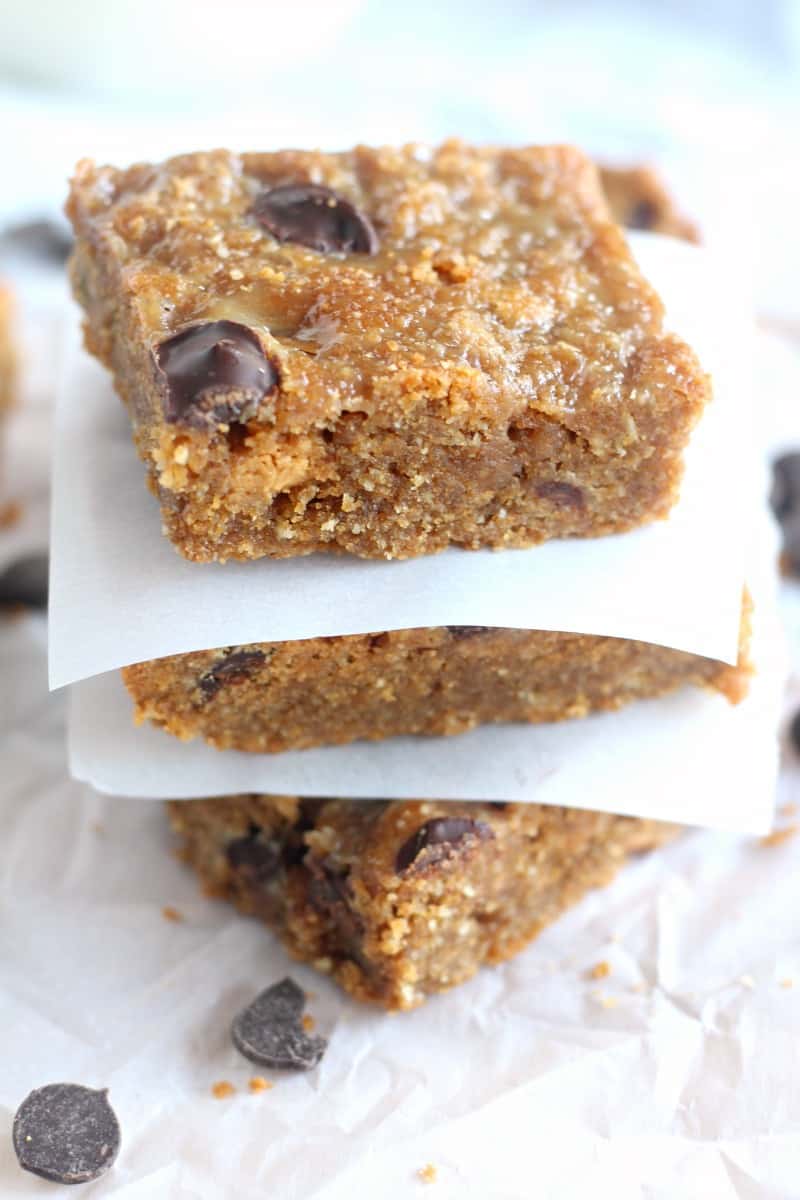 These blondies are coming with me to heaven too, because I made them again this week.  They do not involve any bananas so they are definitely on my good side this week 😉  Plus you all know I'm obsessed with caramel, caramel, and caramel (amongst other yummy caramel treats) so these were high up on my list to "taste test" one more time before sharing.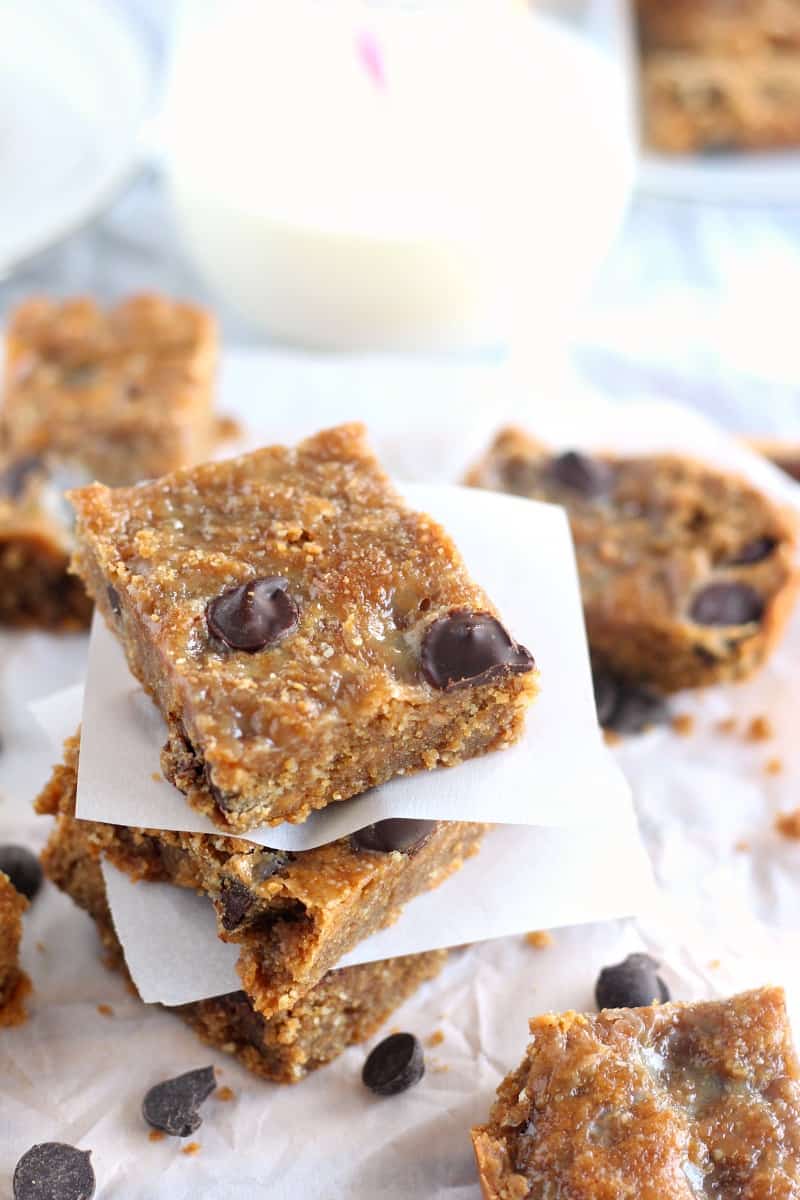 One fabulous thing about these blondies, besides the caramel, is that you can use whatever nut butter you have on hand to make them and they taste great no matter what.  I originally used cashew butter (sort of my favorite!) but the second time I made them with almond butter and they were just as dreamy!  I'm sure peanut butter would be insanely delicious – just saying 🙂
So let's get started with the recipe, and then I'll be off to celebrate my weekend with lots of food and very little moving.  I'm thinking by the end of the weekend I'll be able to run down stairs again without crying out a single swear word, at least that is my goal 🙂
Caramel Chocolate Chip Paleo Blondies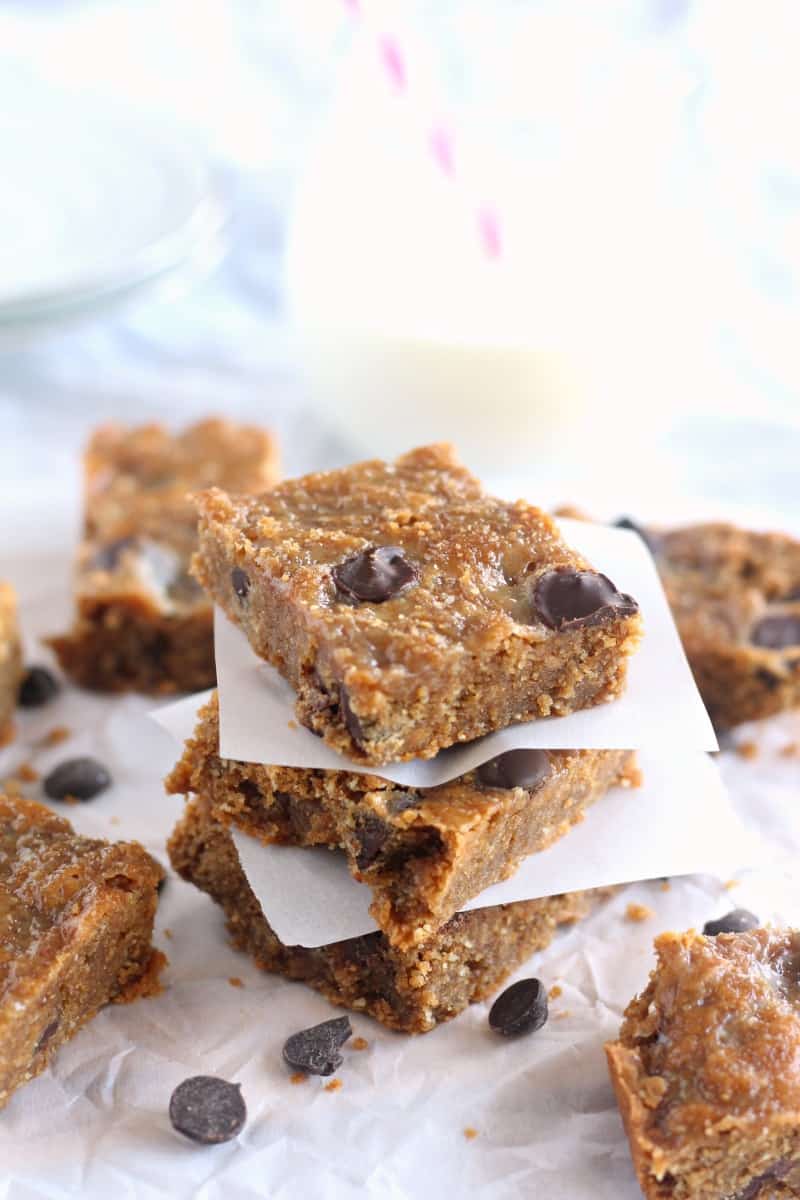 Caramel Chocolate Chip Paleo Blondies
Rich and gooey yet healthy Caramel Chocolate Chip Paleo Blondies that are gluten free, dairy free, soy free, and contain no refined sugar.
Prep Time: 20 minutes
Cook Time: 20 minutes
Total Time: 40 minutes
Course: Dessert/Treat
Cuisine: Paleo
Servings: 12 -16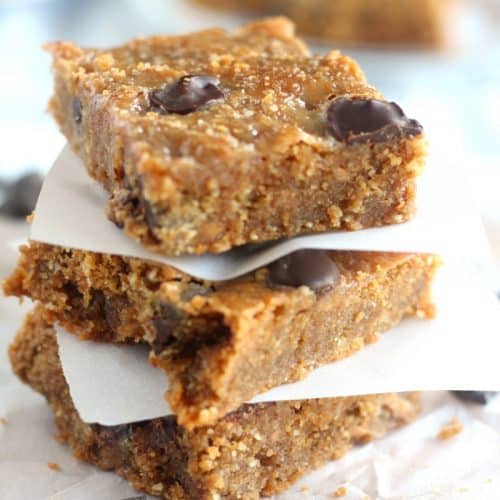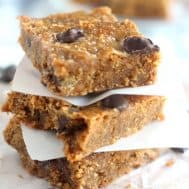 Instructions
Make the Caramel First:
In a small saucepan, whisk together the coconut cream and 3 tbsp maple syrup, then heat over medium heat, stirring, until the mixture reaches a boil.

Continue to simmer over low heat, stirring and scraping the sides to avoid the syrup from burning. After about 10-15 minutes, the mixture should appear light golden brown and thickened. At this point, remove from heat, stir and allow to cool a bit. Stir in the vanilla and sea salt and set aside while you prepare the blondie batter
For the Blondie Batter:
Preheat the oven to 350 degrees and line an 8 x 8 inch baking dish with parchment paper.

In a large bowl, whisk the egg with the cashew butter, 1/3 cup maple syrup and vanilla until smooth. In a separate bowl, combine the almond flour, baking soda and salt.

Stir the dry mixture into the wet - you will get a thick batter than resembles a sticky cookie dough. Stir in the chocolate chips, then spread the batter out evenly in the prepared baking dish, scraping the bowl to use up all the batter.

Swirl a butter knife around the batter to create space for the caramel sauce, then pour in over the top. You can further swirl the caramel into the blondie batter right before baking.

Bake in the preheated oven for 20-25 minutes until just beginning to brown. Don't overbake! The blondies might not look totally done, but once they cool they will firm up.

Cool completely (you can refrigerate or even use the freezer to speed up cooling time) cut into bars, and enjoy! I recommend storing in the refrigerator for the best texture.

What are you celebrating this Friday?
What are your weekend plans?