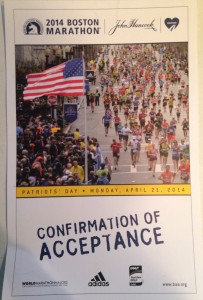 When I received my official confirmation of acceptance into the 2014 Boston Marathon, I hung it on the fridge and tried to feel some kind of good feeling, but really all I could feel was my throbbing left ankle and foot and a whole lot of terrified.
I was a couple of weeks away from the Marine Corps Marathon in DC, and since there was no chance in hell I was pulling out, I was trying to remain in happy-brightside-denial about this injury and what it might mean, and getting that card in the mail was testing me.
In another post I will explain how I injured myself to begin with, but with Boston now only 2 weeks away and running pain-free, I want to share how I got here from there in under 6 months.
So, the Marine Corps Marathon was bad.  Not just bad, but it might have been the most horrifically painful experience I've ever had, higher up there than child-birthing.  And the injury wasn't the only reason.  I was also in dire straits trying not to poop my pants from mile 9 on.  And I'm really stubborn and could not make myself stop to go until the end.  I feel like I might need to pop an immodium just writing this.  Ick.  Thankfully,  eating paleo has addressed that issue for me as well.
So I finished the Marine Corps, died, returned to earth and decided to go to a doctor, which I never do because I always think it will be a waste.  But I just needed someone at that point to tell me all the things I already knew.  I had severe Posterior Tibial Tendonitis brought on by running too many miles in minimalist footwear (sometimes barefoot), and exaccerbated by ignoring the injury, making no changes in footwear, and running even more miles.  What. Was. I. Thinking.?  I think I was thinking tapering would be enough to heal the injury and I would run off into the sunset with no shoes on and then maybe persistence-hunt a few deer.  I was having some serious delusions of grandeur regarding running ever since I qualified for Boston, but that's another story entirely.
So, the doctor told me I had to wear supportive shoes with orthotics, ALL THE TIME, and not run for 6 weeks.  I knew this already, deep down, and I'm glad he said it.  It was November, and from my calculations, I would still have enough time to train for Boston after the 6 weeks.  Well, really I kind of secretly thought it would be more like 3 weeks of no running.   Silly silly me.
I got on the elliptical.  It sucked but I told myself it was awesome just so I would drive my car to the gym parking lot and not into a tree each morning at 5:30am.  Two weeks into doctors orders and the injury was still waking me up in the middle of the night throbbing and swelling hadn't budged even though I was icing at least 3 times a day.  I was getting nervous so naturally I turned to google.  But nothing new came up.
Back in the mommying arena of my life however my kids were once again driving me nuts not eating anything I made them for any meal and instead wanted 15 snacks per hour each all day long.  This time I had a new idea.  I started looking up Paleo recipes only as a way to get some meal variety going in my house.  Soon I decided that I must begin eating this way, like, right now.  I did a week without gluten and my stomach instantly improved.  Now the two started converging and I began learning how an anti-inflammatory diet could help heal my tendonitis.  Right after my gluten-free Thanksgiving I started a Whole30.  Now, I don't know if it was time alone or the food, but the injury RAPIDLY improved during the course of my whole30.  By New Years I was able to run 6 miles about 3 days a week with almost no pain, but I knew I needed to start actually training, which meant longer runs, and I was scared.
When I'm scared, I do funny things like write out 6 different training plans to cover lots of different scenarios.  And then I follow none of it and just take it one day at a time.  Overall, my initial plan consisted of 4 days of running and 2 crosstraining (elliptical or spin) including a long run and totalling about 30 miles a week, which was way down from the 50+ pre-injury.  The whole30 was over but I was still eating the same way since everything was going well.  The winter was cold though and often the windchill was below 0 in the morning, putting me on the treadmill.  I don't mind cold but I have limits.
At some point between snowstorms I noticed symptoms that reminded me of overtraining, and I was feeling pretty defeated.  I had no motivation, was exhausted, was running slower and my foot was hurting more.  I realized I had to step back but wasn't sure how.  With the marathon getting closer (this was Feb), I decided to focus on running and cut out crosstraining.  I stopped spinning and core class and rested those days instead.  Within a week I felt so much better.  I even added in a running day and everything still got better.  My pace went from 8:50-9ish down to 8:20-8:30 with tempo runs between 7:45 and 8:00.  I felt happier and better rested.  I was not feeling the tendon.  All from just cutting out the non-running stuff that I thought was helping my injury!  My long runs were poop-free and I was able to fuel more often.  I also have had less joint-throbbing and other long-run pain this time around, and I truly believe Paleo eating is responsible for this.
So with Boston 2 weeks away, I can now look at that acceptance card and feel hopeful, proud, mainly excited and a good kind of scared.  I really just want to have a good time with this race.  We're supposed to enjoy it, right?  That's how it all starts.  I CAN'T WAIT to be writing a recap of the Boston Marathon.  But for now lemme go and write out like 6 taper schedules and a meal plan or 2.  Gotta love us runners 🙂