Even without Boston Marathon training on my to-do list, last week would have been a tough week to get through.  At the start of the week, we still had that lingering stomach bug (the 3 kids plus me) with the surprising twist of pneumonia (Diana) pop up mid-week literally right after I wrote Thursday's post.
If that wasn't enough, Emily and I had sort of a resurgence (?) of the stomach bug on Thursday that I still don't understand.  We're popping probiotics like tic tacs and the girls are eating nothing but rice and bananas.  I give up – I just hope we're all on the mend now and this coming week returns us to regularly scheduled programming.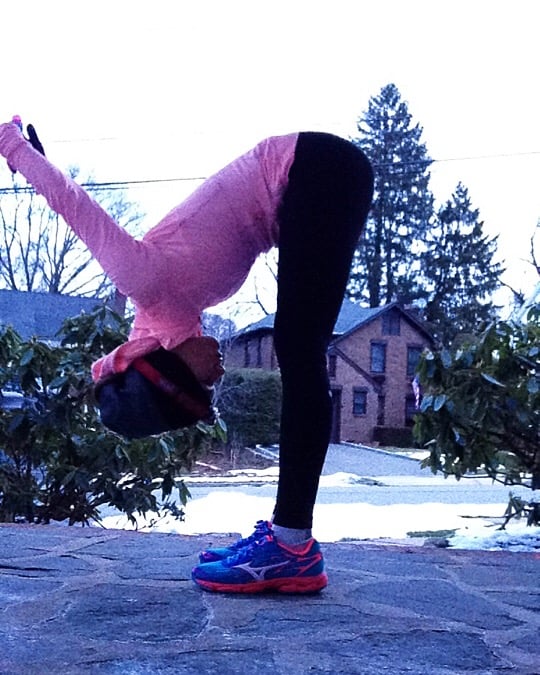 Boston Marathon Training Week 4
Monday – 5 miles, not timed but faster than usual.  I woke up to a temp of 8 degrees and wind chill of zero, and of course texted Meredith before leaving for a few supportive words!  Somehow it made sense to me, and I ran out the door with more pep than usual and had a pretty good run despite ice forming on my neck warmer just from breathing!
Later in the afternoon, I got in this great yoga core strength-focused flow.
Tuesday – There's always at least one time each winter that I make a bad call about running outside – this was that day for sure.  I don't know what I was thinking, but by the time I realized that most of the roads were covered in a mix of ice and slush it was too late to come home and drive to the gym.  I wound up running a few hills and roads over and over because they were clear/walking over icy parts and came home with wet socks.  I was out for about 45-50 minutes but I think I probably covered no more than 4 miles, ugh!
Late in the afternoon I did Yoga for Runners on Fightmaster Yoga.
Wednesday – This was my best run of the week probably because of the super annoying one the day before.  This felt awesome!  (Good thing because things were about to get ugly!)
The weather was a perfect 35 degrees and the roads were totally clear.  It was also lighter out than it has been and I ran on a bunch of streets that I don't usually – some hills too.  I ran for what I think was about 5 miles and 47ish minutes.
Later I did Total Body Yoga Workout 4 , which in my opinion has the toughest core work in the first 5 minutes of the video than in any other yoga video I've done.  Or maybe it's me.  Either way, guaranteed soreness!
Thursday – With Diana on antibiotics as of Wednesday afternoon, I thought we were sort of in the clear, that is until I woke up feeling really off.  Instead of the hill run I'd planned, I ran an easy 5 with my stomach aching.
When I came home it was apparent that both Emily and I were both feeling worse than earlier in the week, when I thought we'd be getting better.  Since Diana was also still pretty sick, everyone spent the day on the couch.  Drew was our only healthy one!  While the girls napped I did Yin Yoga to relax and stretch.
Friday – Total rest day, oh so needed!
Saturday – I was planning to run 13 miles IF I felt like myself when I woke up.  But, I didn't yet.  I decided to run an easy 5 – which wound up totally fine – but I also felt like I wasn't well hydrated or fueled to run the 13.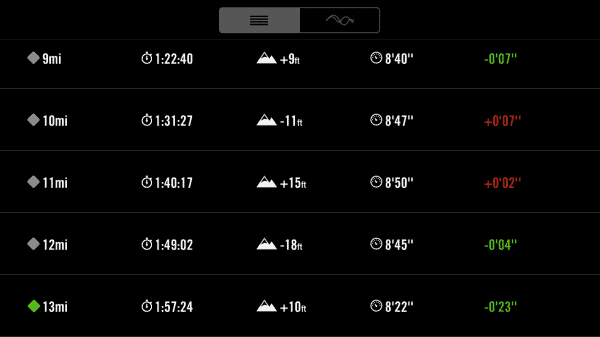 Sunday – I ran 13.2 (actually tracked it!) and was glad I had waited.  Honestly my stomach still doesn't feel back to normal but it isn't affecting my runs at this point, and my energy is back.
The avg. pace for this run was 9:02/mile and the second half was definitely faster than the first, which is always my pattern.  I started thinking about whether I want to set loose time and pace goals for the marathon, but I'm really not sure at this point, I probably won't be certain until the day of the race itself!
Later I did this 23 minutes post run yoga video which is such a great stretch post run, in my opinion.
Summary – I ran 6 days instead of 5 with a shorter long run of 13.2 and total of about 37 miles.  Next week I plan to run 16 on Saturday, but probably less total miles over the course of 5 days.
And now, something really interesting I noticed Saturday night, that confirms what I know, but is also a red flag: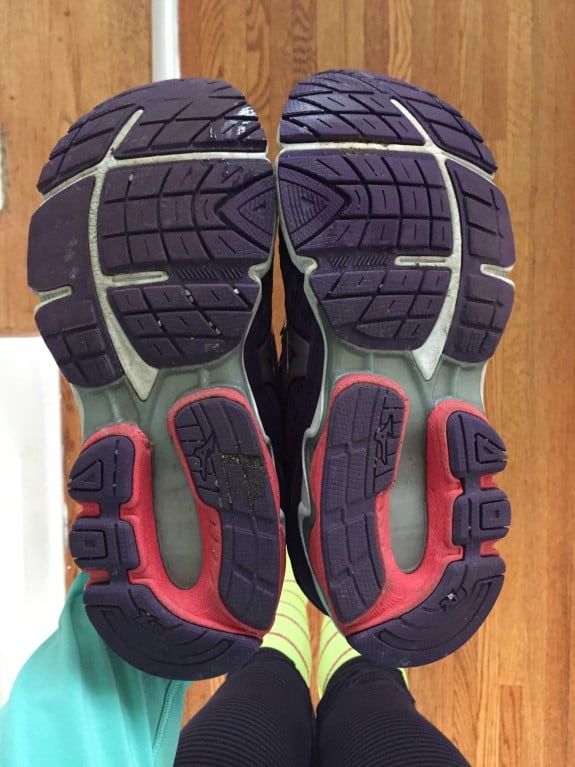 Why You Should Examine Your Gross Shoes
Pardon the photo of my gross shoes so I can tell you what I learned from them.  I just bought new Mizuno Inspires (my favorites) but didn't want to wear them right away for a long run, so, on Saturday night I decided to check out the wear on my old pair to see how bad they were.
What I saw sort of surprised me and you can see it pretty well even in this picture: The shoe I wear on my right foot (on the left in the photo) has significantly more wear on it than the left-foot shoe.  It's so obvious that if I didn't witness myself wearing them at the same time I'd think they were from two different pairs.
Here's the thing – my left leg has had multiple injuries – from a hamstring injury when I was 13, to severe posterior tibial tendinitis while training for MCM in 2013, to patellar tendinitis while training for Philly in 2014.  If there's going to be a pain, it's somewhere along my left leg.
What I didn't realize though, is just how much I'm apparently compensating on my right side, even doing yoga regularly to help balance out, it's just not working the way I want it to.  I think a good portion of it is also mental – having been injured on the left and not wanting to "bother" anything, without realizing it.  After seeing this, I really want to work on strengthening my left side and maybe working on form too.  We'll see how it goes with my next pair of shoes!
How was your week of workouts?
Do you ever look for clues in your old shoes?
Best part of the weekend?