I have to say, it feel strange writing a race recap where I will not focus on a time goal, but rather just how the run actually felt for me.  The Boston Marathon 2016 was all about letting go of pressure and treating myself in a way that would allow me to really enjoy myself – after all – I don't think I'll be running a marathon again, let alone the Boston Marathon in the near (or far?) future!
I know I've talked about the reasons that time was not at all a focus for this training cycle/race, but to sum it up, the bottom line was that my body and mind (mostly mind) needed a break from intense training with a focus on hitting paces or even levels of effort.  After training really hard for the NYC marathon, only to wind up with warm weather and dehydration, Boston this year was the perfect follow up.
So, to preface, I will say a few things.
1.) I had zero time goals, regardless of weather.  I didn't train with a watch, and my long runs showed an avg. pace of 9:30-ish so I figured this is around the pace I would run the marathon, but promised myself I would run by feel, whatever that meant on the given day.
2.) I swear I was the only runner not wearing a watch, and I had time to look around while waiting.  It felt incredibly freeing to go into a marathon with no way to check my pace.
3.) Even without the pressure of time, the weather forecast definitely made me nervous that I'd be able to finish the marathon at all.  I am a COLD weather runner and honestly sort of hate running in the summer or even at the gym because it's too hot.  I am the underdressed runner who likes to be cold.  Since I run super early too, even in the summer the warmest temps will be in the 70's and I usually feel like I'm dying.
Okay enough of that, let's get on with the recap!
Boston Marathon 2016 Race Recap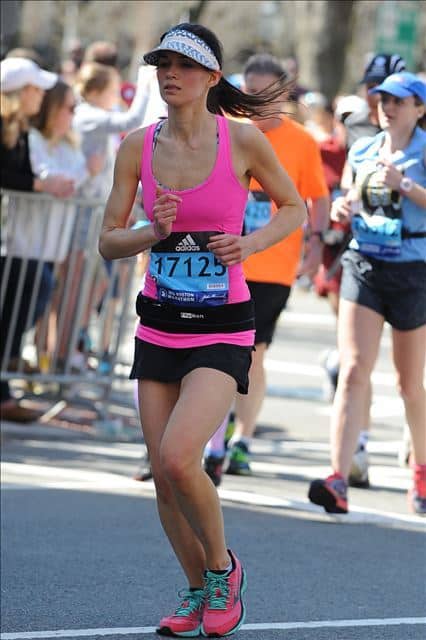 Pre-race: Yup I knew it would be hot.  It was already warm enough to not need sweats while waiting in Athletes village and the sun was already burning my shoulders and legs.  Other than that the morning went seamlessly – Adam dropped me off at the bus in Boston and fueling, bathroom stuff – all was well.  I felt fine and not even tired since I'd slept pretty well the night before.  Shocking!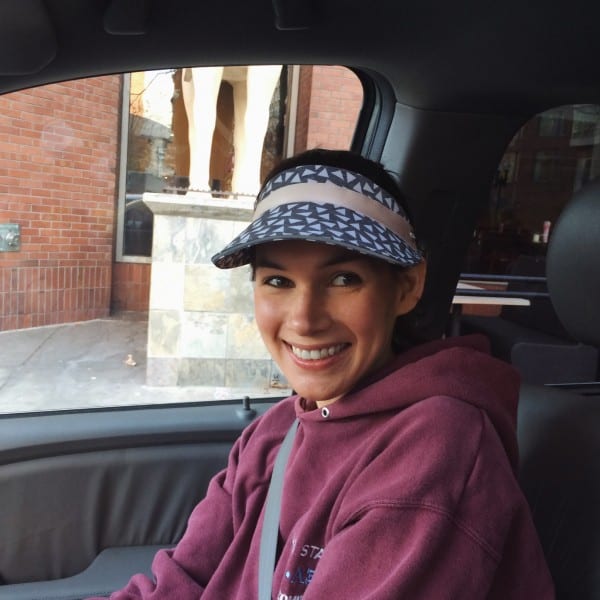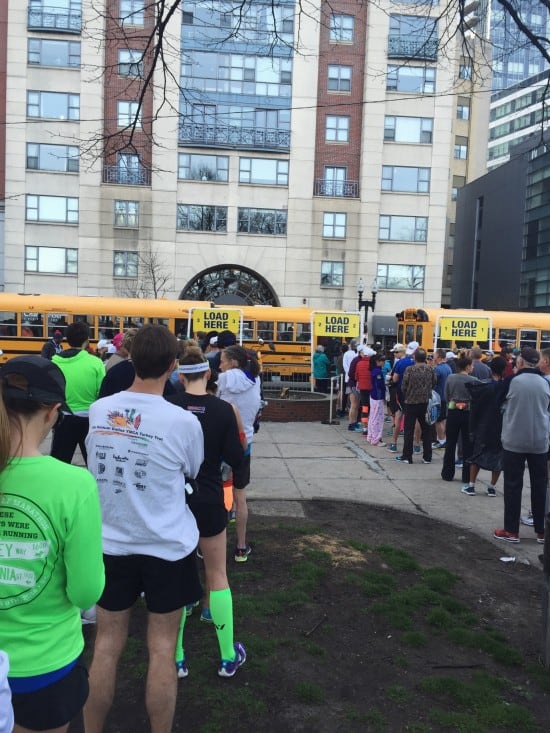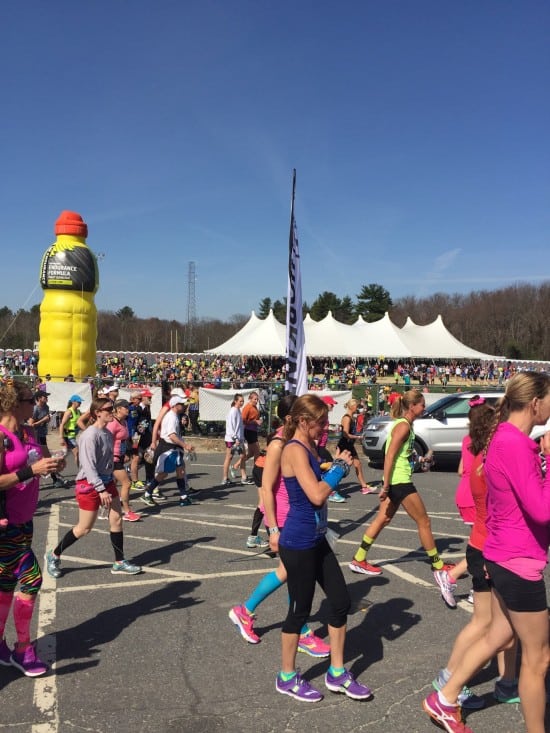 It didn't feel like I had to wait long at all to start, most likely because it wasn't cold!  I was wave 3 corral 2 and had plenty of time to use the bathroom twice, drink water, eat my banana, and try not to freak about the heat!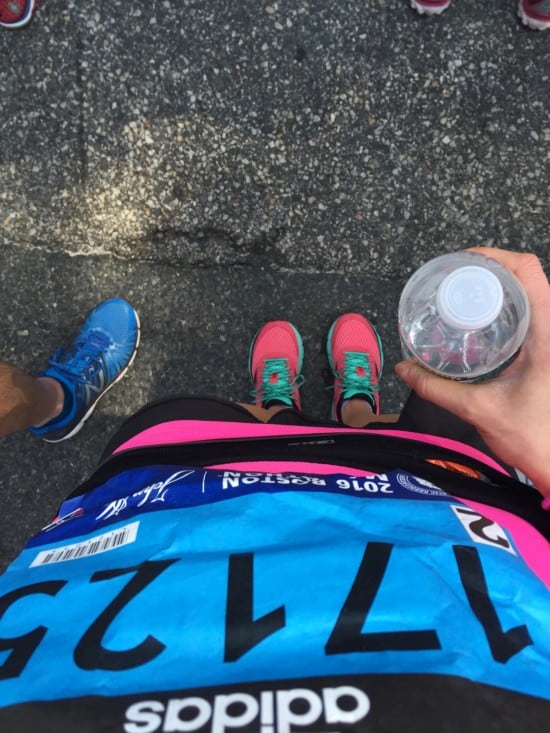 Somewhat at the last minute I grabbed a full Poland Spring bottle and decided to run with it for the first few miles since it was already about 70 degrees and my main goal was to stay hydrated.  That, and run slow!  The last thing I wanted to do was push myself and then have to drop out from heat illness.
Miles 1-5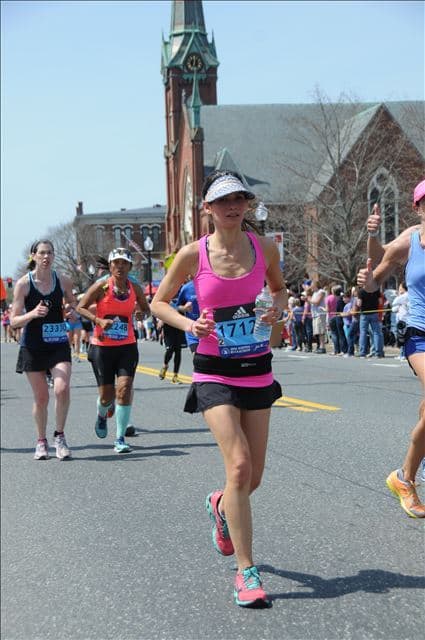 I tried so, so hard not to think about how hot the first few miles felt!  I ran steady, comfortably and relaxed and it seemed like basically everyone had passed me by mile 3.  In my book, this meant I was running slow enough so it was a good thing!  The water bottle didn't bother me at all, and my hydration strategy became to take two cups of water at each stop and dump one on my head and use the other to fill my bottle.  I stayed with this for most of the race and it kept me somewhat cool.
According to the tracking app, which I didn't look at until Tuesday, I crossed the 5k at a 9:29 pace which felt about right I think.
Miles 5-12
These were tough miles, maybe the toughest of the whole race.  To start, they were the hottest miles, or at least felt like it to me, plus this was the point where I needed to start fueling along with hydrating.  I had my Larabars ready to go but dealt with some side cramping after eating and drinking around mile 7, although no nausea thank goodness!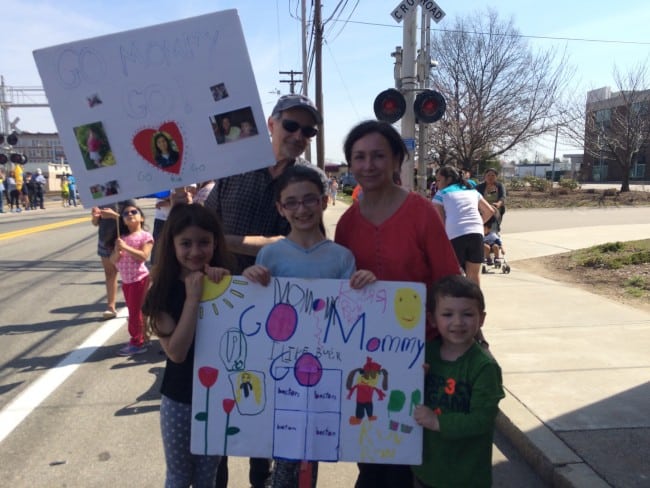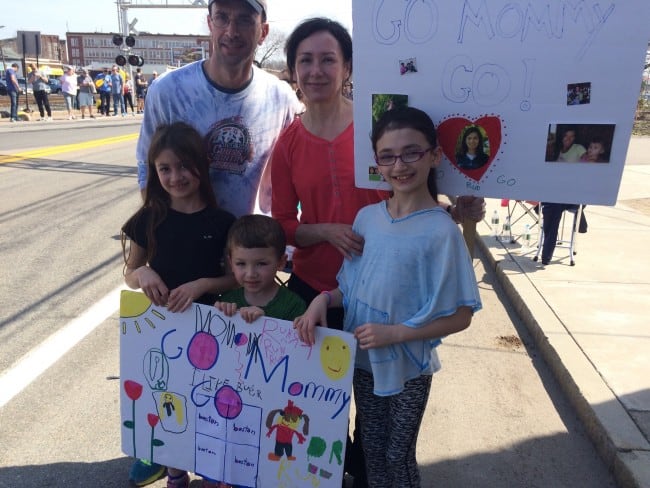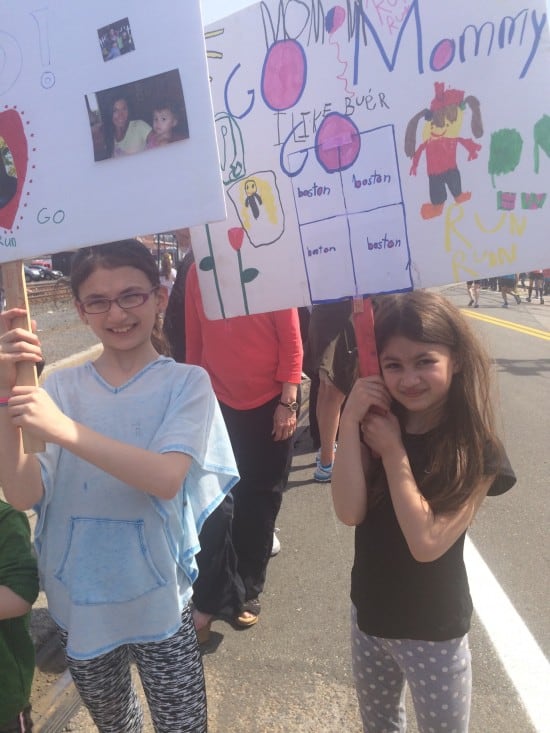 I knew my family would be in Framingham around mile 5-6 and I wound up seeing them just after mile 6 which gave me a nice boost!  They were cheering and clearly having a good time – nothing better than seeing that.  After they saw me they were headed up to the half so I knew I had that to look forward to.  Even though it felt so hot for me I was glad that at least they had nice comfortably warm weather.
The miles following about the 10k felt pretty long and slow, and I just stuck with my strategy to hydrate and dump water on my head.  I had to massage out a side stitch a couple of times but luckily was able to do this and got it to where it was a mild ache.  I always get side stitches when I'm either out of shape or not acclimated so it was no surprise.
Miles 12 – 21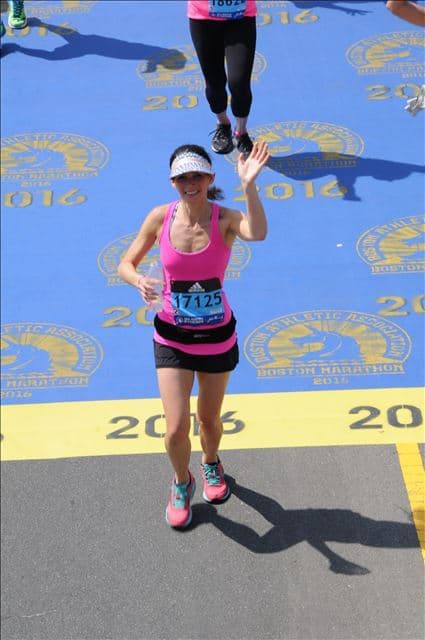 Miles 12-21 are the golden miles of the Boston Marathon in my opinion!  I felt this way the last time I ran in 2014 too.  The crowds in Wellesley are incredible and really the crowd support throughout the tough miles is just extremely helpful and motivating.  I high-fived countless spectators and just focused on taking in the energy and love coming from the crowd.
I was so euphoric around the half that I had a grand fantasy that Adam and I would run the Chicago marathon together in 2017.  I was so adamant about this at the time I wanted to stop and tell him when I saw him!  Of course this lasted probably 10 minutes before I'd forgotten it, but still, just a marker of how invigorated I was feeling during these miles!  I did wind up seeing my family at mile 14 which was awesome, and then I just focused on heading into the hills strong, well fueled and hydrated.
My pace had slowed from the first 5k somewhat steadily and I was running about a 10 min pace according to the tracking app for most of the race.  Even when I was feeling good, I didn't want to push it because I knew if I did I'd likely start feeling badly in the later miles which I wanted to avoid at all costs.
The Newton area is amazing in my opinion!  I actually love the hills – when you aren't fighting for time the hills actually make things fun and interesting and it's a thrill to get over each one leading up to Heartbreak Hill.  The crowds are also just incredible – handing out bananas (which I took) water, sprinklers, wet towels, basically anything you could possibly need.  I FINALLY ditched my water bottle right before Heartbreak Hill, feeling like there was so much water along the course at that point that I wouldn't need it.  It was also breezy and cooling down a few degrees which felt awesome to me!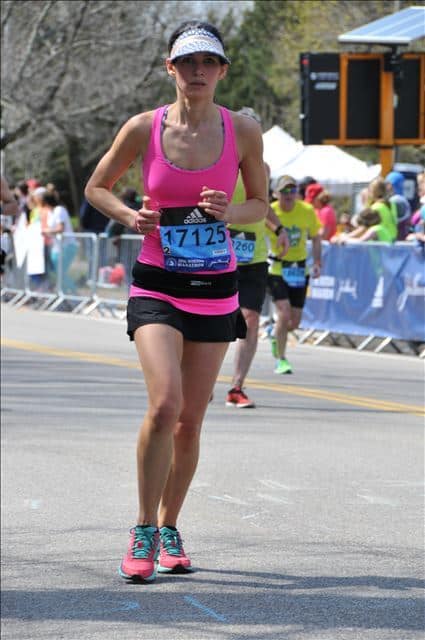 Okay maybe I don't look all that happy in the above photo, but, it's near the top of Heartbreak Hill dang it!  I was actually a lot happier than I appear 😉
Miles 21-26.2
Hard miles, ya think?!  But yes, once again my opinion only, but after the high of getting past Heartbreak Hill there is a low point from around 21-24.  This is when my legs really start to ache and particularly my quads will feel the effect of the hills.  This is also when there is more shade on the course though, and, this time around it was significantly cooler and I even felt a shiver here and there with the wind, which made me happy.
These miles feel long though, there is no doubt.  I was still nibbling on a Larabar when I crossed over the 23 mile mark, at which point I said f-it, I never want to see a Larabar or water for that matter ever again.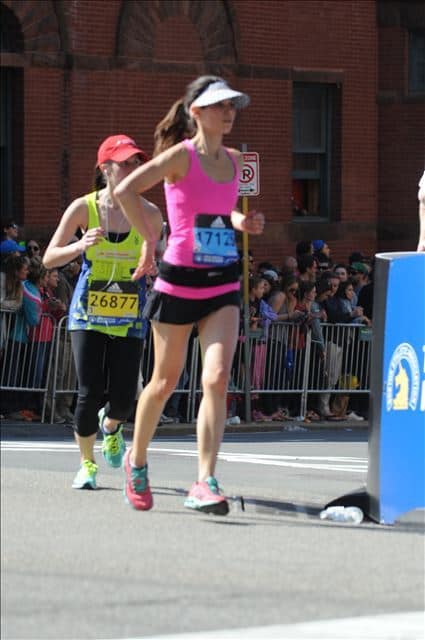 Of course all of that negativity turns into pure, raw emotion when you know you're about to make that famous right on Hereford St and left on Boylston.  Seriously incredible feeling, more so this time because I knew exactly what was coming.  Running up to the finish on Boylston is unlike anything else I've experienced both times I ran – there is such a grand, wide open feeling to the road itself and the crowds make it that much better.  Plus the whole "I get to stop running and get my medal" feeling kicks in and BOOM!  It's pure heaven.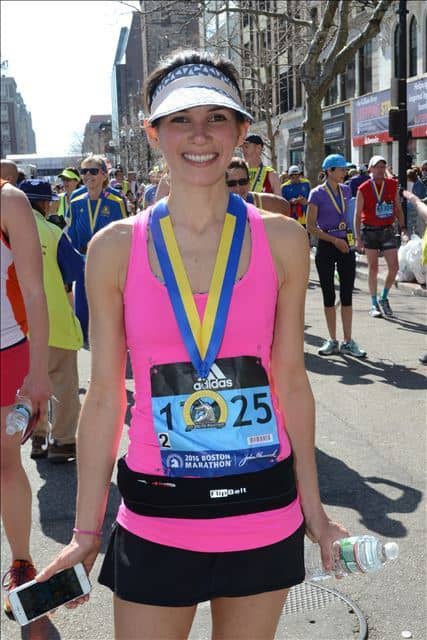 The finish/post race
I actually ran several steps after I crossed the finish line which I took as a sign that I "finished strong" and I also wasn't limping or feeling weak or anything else like I have in past races.
Yes, this was my slowest marathon to date by quite a bit (official finish time 4:22:10, about 10 min pace) but I wouldn't change a thing about it.  I ran smart, didn't pressure myself, fueled and hydrated well, had no stomach issues, no bathroom issues, no nausea or heartburn, and mentally I was positive probably through 85% of the entire race.
So, I'll just look at it as a "time on feet" PR rather than anything negative related to time – I can love running and not be a "fast" runner – this is an important thing I learned at the Boston Marathon 2016.  What an incredibly freeing feeling to know I can just be myself, treat myself well, and run how I feel like running.  So much gentler on the body and mind this way, too.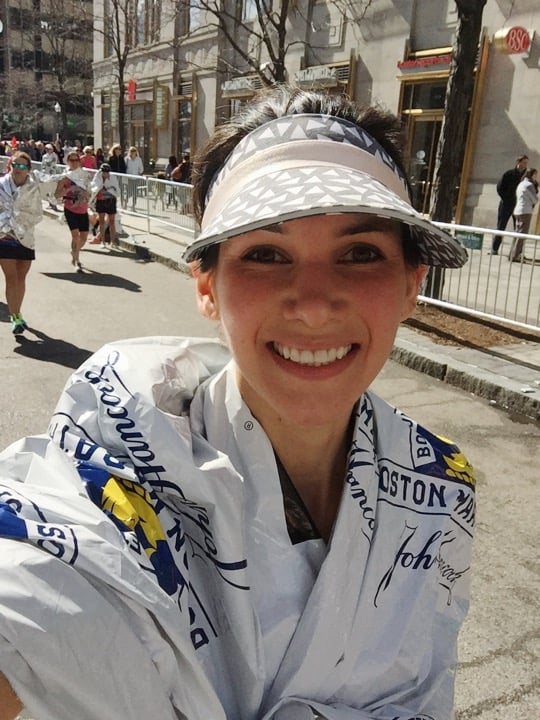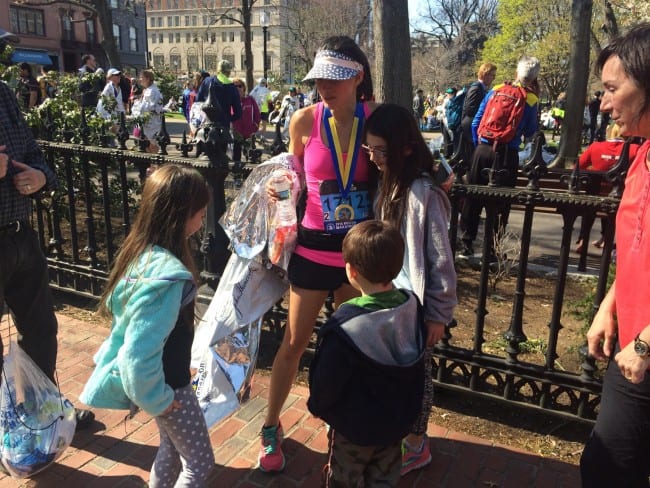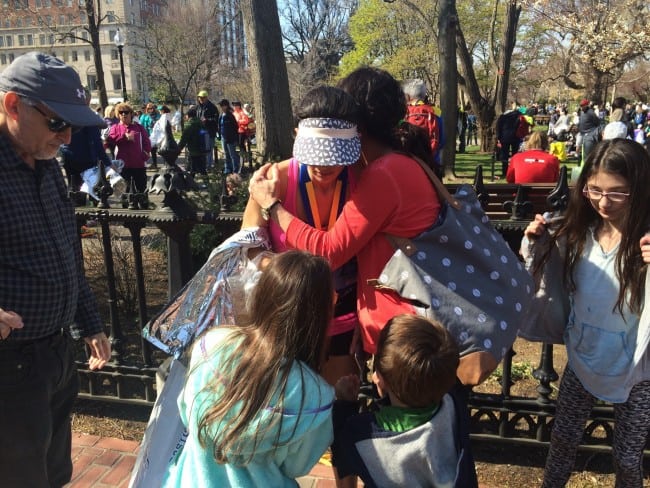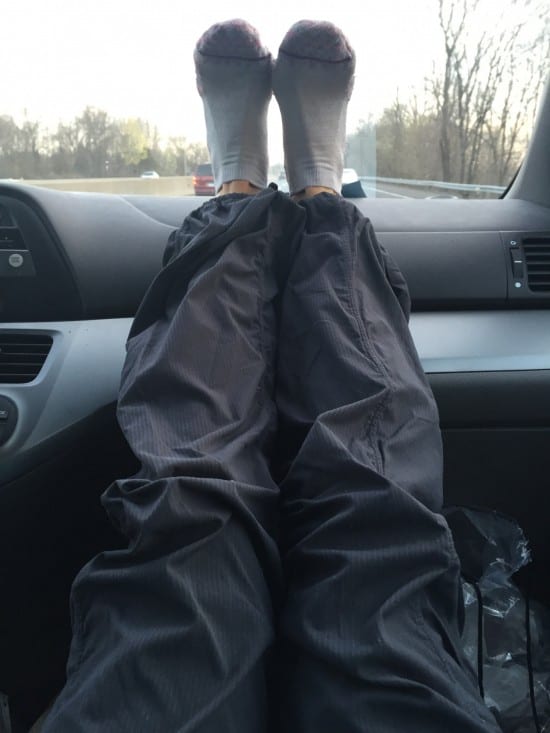 I met up with my family pretty easily afterwards and was so glad to hear everyone had a great time.  We walked back to the car and headed home right away!
Since it was such a late race, even leaving right away meant we wouldn't get back until 8:30 pm – the kids were seriously great and we had no problems in the car.  Sure, we stopped at McDonalds and got them ice cream, but, you do what you have to do sometimes, they did in fact survive the ice cream, at least so far.
Linking up my race thoughts today with Amanda for Thinking Out Loud Thursday 🙂
What helps you stay positive during a marathon?  
Have you ever run a marathon holding a regular old water bottle?  It's not as bad as I imagined!
Share any running/race/marathon related thoughts you have in the comments!