"When life gets busy" is turning out to be the theme of this week.  Just breathe, right?  No, just give me a minute.  At least that's what I've been saying to my kids or anyone else who happens to talk to me.  "Just give me a minute."  Sure, all I need is a minute and I'll be caught up and ready for game time.  That would be completely awesome if all I needed was a minute to get it all together!

Today's Thinking Out Loud will be short, because like I said I need that extra minute to do all the hours of work, chores, and errands I'm somehow behind on.  And frankly I'm probably not charming anyone right now with my whining!
Well, be stuck with me now for a minute, just a minute, so we can chat about running and slow computers and slow everything, actually.
When life gets busy, I swear everything moves in slow motion.  Drivers, computers, wifi and phone internet connections, the shower, people walking, traffic lights, the coffee maker.  Bodily functions.  Okay that was disgusting.
I realize that most of these things are running at normal speed and I'm just impatient.  Except for my computer, which is genuinely super slow and old and I want to murder it by throwing it through my bay window.
Honestly I love the window too much to do that, but I'm getting to the point where something must be done with this computer!  I mean, I only need it for basically everything I have to do all day and it definitely slows me down.  Plus, it crashes and shuts down by itself really often and unexpectedly.  I have no understanding of technology, so, I just attribute it to the fact that it's as old as Diana and I need a new one.  Any recommendations?
Busy rant over.  Moving on to a fun thing now, because I can't NOT share with you guys that I got the confirmation I'd been waiting for!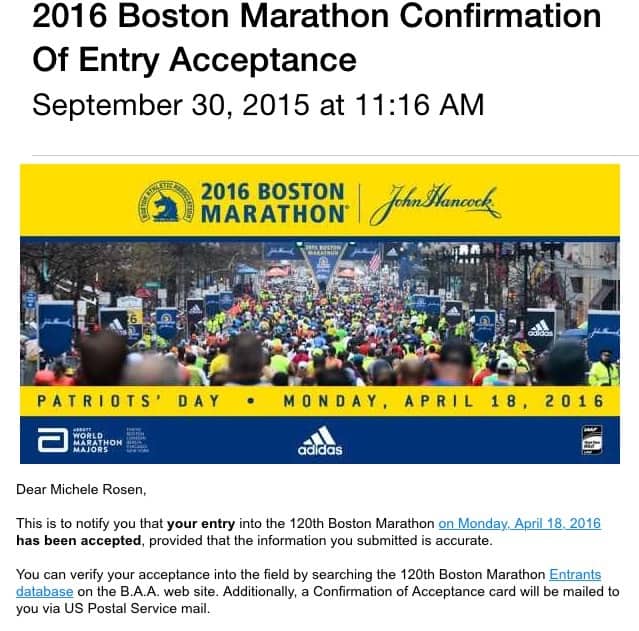 Provided the information I submitted is accurate.  Because, I totally have the time and the balls to lie about something like a BQ time just to pretend for 5 minutes I might get to run Boston?  Do people actually submit false information?  I definitely do not need to create drama like that for myself and I'm guessing most people would agree that life is complicated enough.  So, provided I'm not a sociopath, I will be training for and running the Boston Marathon 2016!  Woohoo!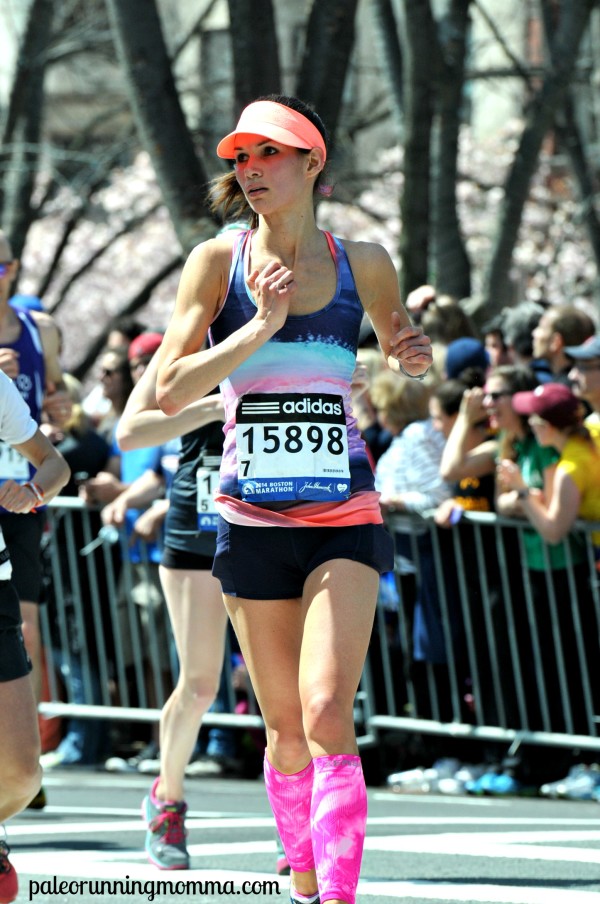 The Boston Marathon is special to me.  In fact, the more time that passes and the more I blog, the more special the memory of 2014 becomes.   Everything that led up to me running Boston in 2014 formed the roots for my diet overhaul and ultimately, for the blog!
I started this blog on a complete whim on the first day of my taper, April 1 2014.  I had no clue what I was doing (okay fine, I still don't) but I did know that wanted to write about running and eating paleo.   It's funny to think that two years later I'll be running Boston again, and blogging all the way through, with a new story this time.
That is, if I can make it through marathon training over the winter.   Who am I kidding, I run all winter regardless of what I'm training for, might as well train for Boston.
Besides, it's fun to complain about 3 feet of snow, ice, headlamps, windchills of -25F, treadmills, and having to buy new Lululemon winter running gear.  Of course you're crazy if you think I'd ever complain about that last one – if it weren't for Lululemon clothes I might not even have the motivation to run at all.  Need to justify those purchases, amiright?
Before I leave you with those deep Lululemon thoughts, tell me what's on your mind this week!
Are you feeling busy?  Calm?  Is your computer working?
Tell me anything!