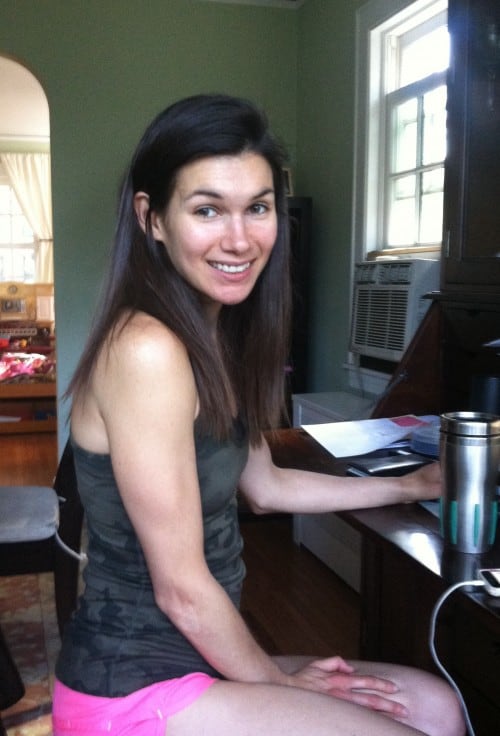 As you guys probably picked up on I'm a "behind the scenes" kind of girl – I love thinking, talking, and writing about people's motivations for just about anything. So when Mike @ Runningaroundthebend asked if I wanted to link up for a Blog Writing Process Tour I thought why the heck not? I mean these are things I need to think about for myself anyway, since, recently, blogging has seemed to take over my life, even trumping running and paleo at this point!
Here are the rules –
Acknowledge the blogger/blog that invited you to the Tour.
Answer questions about your blogging process
Choose 3 bloggers to plug, give a short bio of the blogs and link to their sites.
If you haven't checked it out already, go read Mike's post and tell me if you agree with his description of me. Just kidding. But still go read his post!
Before I get started dishing my innermost secret-est deepest blog thoughts I'll tell you who I'm nominating and why.
First is Lisa @ Runningoutofwine. I must have found her blog through the comment grapevine – because that's how I've found most of what I read – but when I did I saw that she was signed up for the same RRCA coaching course in Hyannis that I was, and I started stalking her. Okay not actually stalking her but I started reading her blog daily and instantly related to her attitude and goals related to running as well as her friendly and down-to-earth (what does that mean?) nature. Plus her blog name clearly qualifies her as a creative genius amiright?
Second is Nicole @ TheGirlWhoRanEverywhere. I also found her blog from the comment-vine and instantly felt such a warm, friendly, fun-but-serious-runner-girl vibe from her writing and was hooked. She is tough, competitive, sweet, and funny all at once, and reading about her workouts is big motivation for me. You can instantly feel her genuine love for life, people, and running and she is open in her writing about triumphs and struggles while motivating others to do the best they can and to love themselves!
Third is Kirtley @ Thegistoffit. I was introduced to her when she commented on my blog, and I really love her views and attitude regarding nutrition, intuitive eating, and respecting your hunger and body. From her blog: "Food doesn't control me anymore, and I want to teach you how to get there. Come here for tips about nutrition, intuitive eating, and wholesome, balanced health. Basically, learn how to be free. No more stressing about health. Runner, biker, toner, whole foodie, nutritionister, intuitive eater, horse girl, free girl, happy girl."
The Questions
1. What am I working on?
2. How does my work differ from others of its type/genre?
3. Why do I write what I do?
4. How does your writing process work?
Before I answer the questions here's the background. I've always loved writing and was a "daily journaler" like in an actual paper book with a pen from 6 years old to 26 – I stopped doing this after having kids out of pure exhaustion. I've always considered myself behind in technology so the idea of blogging was out of the question. But it nagged at me as I started reading more and more blogs. I knew that writing kept me honest with myself and made me happy, but sharing with the world? I guess you could say I've spent most of my life being scared of being judged by others. But as I've gotten older (with a little help from the movie "Frozen") I've decided to "let it go" and just be myself and so be it if people aren't cool with it. Life is too short, I see that now.
So a lot of things started happening for me all at the same time ealier in 2014. I was training for Boston after completely changing the way I ate. I was thinking about becoming a running coach, and I was thinking "what the heck am I gonna do with my time when my 3 year old is in camp 5 mornings a week?" I was also thinking "dang I need to stop shopping!" And so on April 1, 2014, The Paleo Running Momma was born.
What am I working on? Oh geez, I mean what am I not working on? Here it is, the major stuff right out on the table:
I'm working on making this blog something that people will love to read while staying true to who I am. I want people to come here and feel like they have a friend, someone who gets them and struggles with them and can also make them laugh. As I former social worker (MSW) helping people improve their lives is something really dear to my heart, and if I do nothing else in my life but help other people find their own personal strength and happiness it might just be enough.
I'm working on being a great mom and wife. It's hard stuff and often takes a backseat. One of the biggest things I've learned in the past 6 years is that these two things are impossible if I am not treating myself well. So I'm working on that too.
I'm working on improving my marathon time. I'm pumped to create a training plan for Philly and I want to PR. My goal is to break 3:25 (previous PR 3:29:15). I like big goals! To do this I need to stay un-injured first and foremost and second is that I have to stick to my training plan! I tend to be a little impulsive that way.
I'm working on a coaching business. This is new to me since I just received my RRCA certification, but it's something I plan to get serious about.
2. How does my work differ from others? Well, it's because I'm weird. Ok no, it's different because I have a unique blend of a bunch of different interests that have come into play at various points in my life. A lot of my writing is psychologically focused because that's where my "career" started and I have always naturally gravitated to motives, behavior, and emotions and the expression of it all. Creative writing and music have been hobbies, so you'll get some of that in here too (the writing part.) Plus I think my sarcasm and humor is slightly less offensive on paper than it is coming out of my mouth, but who really knows. I like being funny and I think it's funny to be strange, so in addition to running and food you'll get some crazy in your cup if you stick with me, knowwhatimean?
3. Why do I write what I do? Because I think it's interesting, funny, important, or something I cooked that was good. Or because it's something I'd personally want to read on the internet. There is not too much rhyme or reason to this, my blog writing is what goes on in my head, topics that I like, advice I picked up on somehow that might be helpful, or some combination of all of that.
4. How does your writing process work? First, since I have 3 kids, they need to be contained and occupied somehow or otherwise at school or camp. Right now they're at camp. I usually have some idea of what I'll write about that day based on what's going on in my life, something that I'm thinking about or that's bothering me, or something funny I thought about while running. Then I'll figure out a title first and go from there. I write quickly and don't really proofread except for spelling. It's all stream of consciousness, so what you're getting are the "thoughts from my gut" or even "thinking out loud" in basically every post. Like I said, I'm pretty impulsive and not all that organized. I try to have faith that what goes on the page will be worth reading, and if not, there's always tomorrow.
Woohoo with that therapy session done with I'll leave you to go check out Mike's post if you haven't already and also look out for Lisa, Nicole, and Kirtley to post theirs!