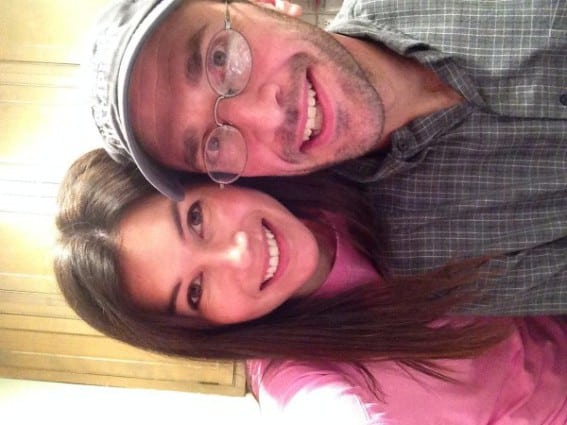 Getting out for a much needed date night – easier said than done sometimes (I know you're nodding all you married-with-children-people!)  Especially in the winter, when the idea of getting up and out in general can be overwhelming, it often just makes more sense to consider a stay-at-home date.
It does require a shift in mindset, but once you wrap your head around "getting out" in your own home, it can be an awesome way to spend quality time together without needing to put on makeup, arrange for (and pay) a baby sitter, and put on shoes.  You know, all those things that can really test your motivation to go out at all (sort of kidding, sort of not.)
I guess the one down-side to a home date night is that if you plan to eat (and we like eating in my house) someone will have to cook, of course!  And that someone would normally be me.  But seriously, for me to really get out of my everyday mommy-brain and make staying at home really feel like a date, I need Adam to participate in the cooking part.
And,  because I can be (a bit) picky/controlling about what I eat and the quality of my food, cooking for me is not the easiest thing in the world.  Yup, I just admitted it.   BUT that is exactly why Bumble Bee SuperFresh is pretty much the perfect addition to a successful at-home date for us.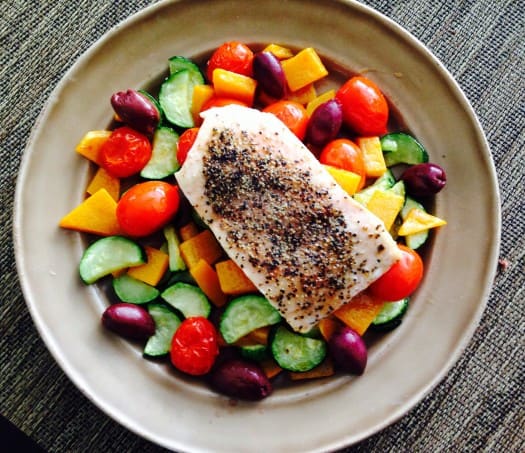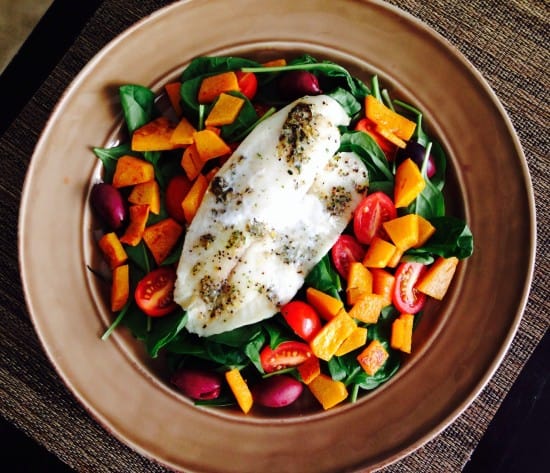 Bumble Bee SuperFresh makes it possible to eat delicious and high quality seafood in your own home with extremely simple and minimal preparation.
Believe me when I say, Adam was easily able to follow the directions and make us meals that rival any restaurant seafood I've had recently.  No one could mess this up!  You literally remove the package from your freezer and cook right from there, with the entire thing being done in under 20 minutes.  The fish cooks in its own parchment paper wrap in the oven so there is no cleanup either.  Good thing, since I'm too tired at night to wait much longer for food, plus then still have to clean up. Huge win for our home date!
High Quality, Clean Ingredients
Since I am always very quality skeptical about the food I eat, I was really happy to see that Bumble Bee SuperFresh takes pride in having a "clean label", which means the product contains only a few easily recognizable ingredients.  For example, the Salmon with Garlicky Black Pepper and Extra Virgin Olive oil contains nothing but black pepper, sea salt, extra virgin olive oil, garlic powder, pure cane sugar, onion powder, and Atlantic salmon.  There are NO preservatives in any variety and all are gluten free.
Still thinking about quality, I was curious about how the fish was sourced.  
It turns out that all Bumble Bee SuperFresh seafood is sourced from wild fisheries or aquaculture farms that have earned official certification from strict third party organizations such as Best Aquaculture Practices (BAP), Global GAP (GAP), and the Aquaculture Stewardship Council (ASC).
You can actually check exactly where your specific package was sourced from on the above website by entering your packaging code.  THAT is pretty cool stuff!
For our meal, we each chose our own dish.  Each package contains two servings which are individually wrapped so it's easy to mix and match, another reason it can work just like a date night.  Unless you and your hubby are into always ordering the same thing.  We are definitely not that couple 🙂  Either way, they make it work.
And what's a date night without some good wine?  Since we're far from knowing a thing or two about what wine goes with what, I appreciate that wine pairing suggestions are right on the site to help you out.  And recipes?  While the seafood really is its own recipe right out of the package, they also give you menu ideas, in case you need a bit of inspiration to make the meal special.  I went very simple with some roasted veggies and spinach, but there are really tons of recipe ideas to take each selection to the next level.
Another bonus?  Adam is now more open to both seafood AND cooking than before.   Which means better home dates for us going forward.
Valentines day dinner for me, perhaps?  That would be lovely, hint-hint 🙂
What does your ideal home date-night involve?
This post is sponsored by FitFluential on behalf of Bumble Bee SuperFresh.