Did you know that one year ago this blog wasn't even a thought?  I honestly blame Boston Marathon taper madness for the existence of this blog at all, because it started April 1, 2014 (April fools, you just sold your soul to the internet!) and I had no idea what I was getting into.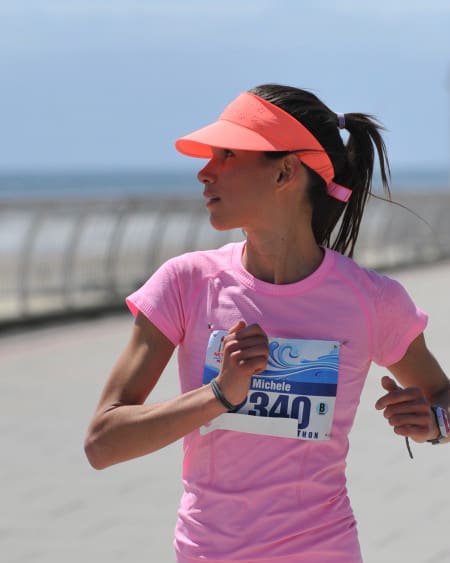 I had only been reading blogs at all for a few months at that point and was going off of adrenaline and a decision to "Let it Go" (like as in the movie Frozen.) I held my breath while I splashed all my passion, fear, and inner dialogue on the pages.  Lord knows I had no idea who would read this, how I would take a decent food photo, and that I would start referring to myself as "Paleorunningmomma" in my head within 2 months.
Nonetheless, it all unfolded and continues to unfold into 2015.  It's become something I love to work on and that I'm truly proud of.  Plus, I like having an outlet for my occasionally twisted sense of humor.  Like when I said "when bacon says jump, you jump, know what I mean?"  Clearly it's stuff like this that only I think is funny, but still.  I'd like to think my humor has something for everyone.  Or not, but then maybe you like eggs.  If you like eggs then you're in the right place 🙂
This post is dedicated to my personal favorite blog highlights, broken down into categories of course so we can both think straight.
Recipes: Let's eat first and ponder the meaning of life later on.
Homemade Mayo – Officially titled "I knew I Loved You Before We Met Mayo" and the title says it all.  This might have made Paleo "doable" for me in the beginning.  It's the base for all my dressings and sauces.  I freaking love it and make it once a week!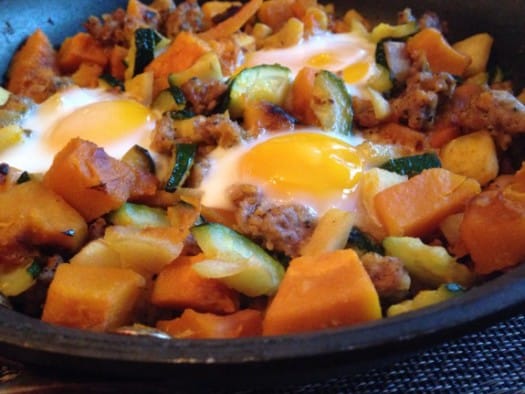 Kabocha Squash, Apple and Breakfast Sausage Hash – You guys know I'm a fan of the hash!  And sausage, of course.
Crispy Soft Sweet Plantains – Kid friendly and couldn't be easier.  These are a staple in my house and everyone loves them.  Plus they can be a paleo runner's best friend during marathon training!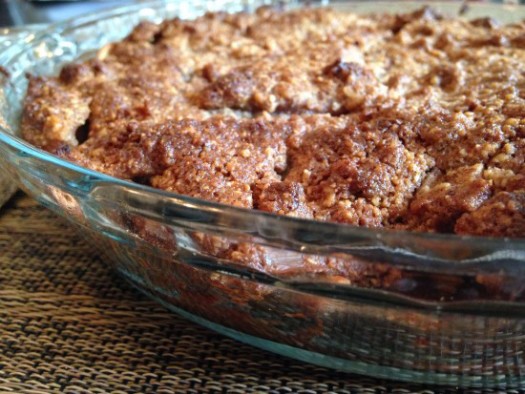 Maple Pecan Apple Crisp – My family's "apple pie" this year was completely grain and refined sugar free.  Plus totally delicious and loved by all.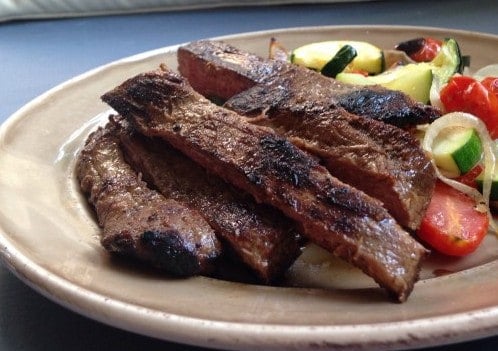 Perfectly Marinated Flank Steak – Because sometimes life calls for a good steak!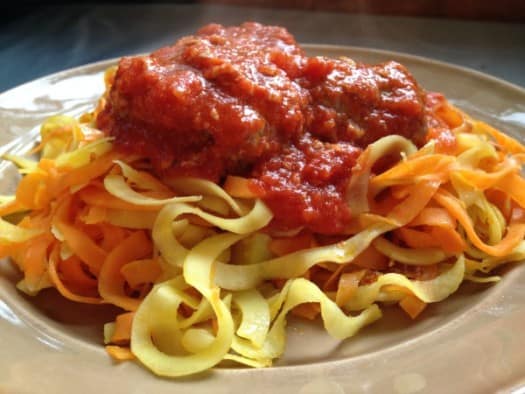 Italian Style Meatballs Over Sweet Potato Noodles – The ultimate Paleo Spaghetti and Meatballs!
Sweet Potato Salad with Bacon, Egg and Chives – A bit involved but so, so tasty and perfect for a summer party!
Butternut Squash Thanksgiving Stuffing – This was just too good!  Better than bread stuffing in my opinion.
Chorizo, Sweet Potato and Caramelized Onion Frittata – Delicious baked frittata with a great flavor combo.
Chewy Cranberry Chocolate Chip Cookies – Non-paleo people love these and can't tell they're grain and dairy free.
Homemade Chipotle Chicken Salad – I have two chicken salad recipes that are both awesome.  Today this one won!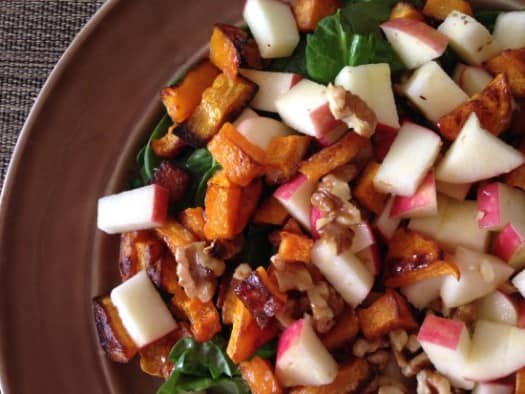 Butternut Apple Walnut Salad – The picture speaks for itself!  A must-try for butternut-lovers!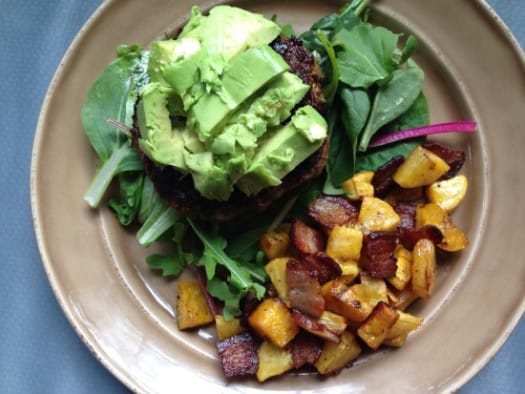 Chili Spiced Burgers with Roasted Sweet Plantains and Bacon – Just yum on all levels 🙂
Running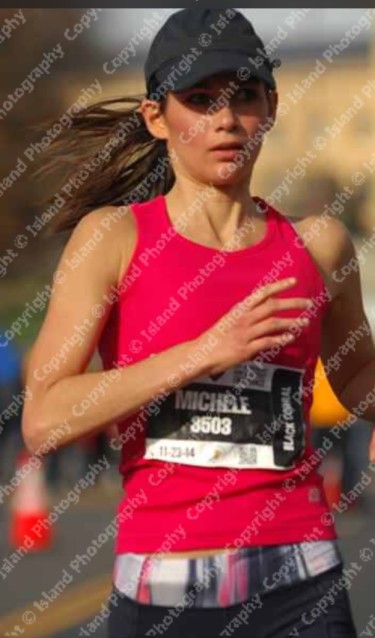 Running a Marathon versus Childbirth – They're almost the same thing, right?
Own Your Training and Find Your Meaning – Intrinsic motivation is key to training success.
Training After Injury – The mind heals slower than the body!
5 Strategies to Push Through Pain – Because running hurts sometimes!
Why Do We Apologize for Being Slow?  Have you done this?
Avoiding the "Bonk" – All about glycogen depletion
Entertaining Yourself Without Headphones – Yes, I think I'm funny 🙂
Running and Relationships – Because other people exist in the lives of runners!
Body Image and Running – Something all runners have some thoughts on.
10 Things I Hate About Running – Like from the 90's chick flick
Life – Okay Let's Ponder Away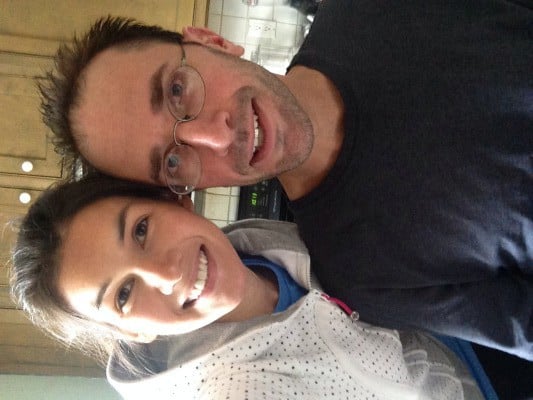 Missed opportunities – And parking spots, you'll see.
Tips for Writers Block – Mine might be a bit different than the usual ones.
Are you trying too hard?  I often am.
Are you inspired or triggered?  There's a fine line.
Insecurities – 3 conquered and 3 I'm working on.
Some Things You Can't Run From – How I'm trying to face fear and reality
10 Beauty Rules I Don't Follow Anymore – Let it go!
Mom Stuff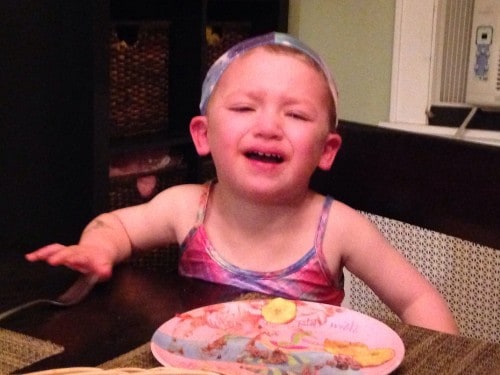 Body-Positive Messages for My Daughters – If there's one thing that sticks, I hope it's these 4 things.
Jogging Stroller Memories – Remembering a time not far gone but so different.
Saying Goodbye to My Babies – I know I don't have to forever, but things are certainly changing.
I'm Not the Mom… – I'll never be, and I understand it now.
Packing for Vacation – Now versus then.  You moms will relate, promise!
Tips for Healthy School Lunches – Yes I still dread packing lunches but these help me!
Do I Let My Picky Eaters Eat Nothing?  Doing this made all the difference.  I wrote this while struggling, big time.
WIAW Paleo Kids Edition – Everything my kids ate for one day!
Why My Kids Don't Eat Paleo – They still don't, and I don't make a big deal of it.
Health and Nutrition
5 Steps to Quitting Sugar for Good – If I did it, I assure you it's possible.
5 Reasons to Quit Artificial Sweeteners – Along the same lines, get off the fake stuff too!
Real Food in Real Life – What Paleo/real food eating looks like long term.
What I've Learned Eating Paleo for a Year – Many of these really surprised me!
12 "Healthy" Practices that Aren't Healthy at all – So stop!  These things do more harm than good in my opinion.
We are Not What We Eat – Food and Identity.  Let us not be defined by what we choose to eat!
My IBS History Part 1 and Part 2 – It's been a long road, but dropping grains and dairy has made all the difference.
Portion Size and Paleo – It takes a while to get this right, and you might need to eat more than you think you do!
My Reaction to Paleo on GMA – Did you know I was on GMA (1:30 in the video) last June?  This was my reaction to the piece.
Is that enough for you?  Don't answer, I know, it's a lot!  I hope you find one or two posts that pique your interest that you haven't seen yet.
Happy reading, and here's to more good stuff for 2015!