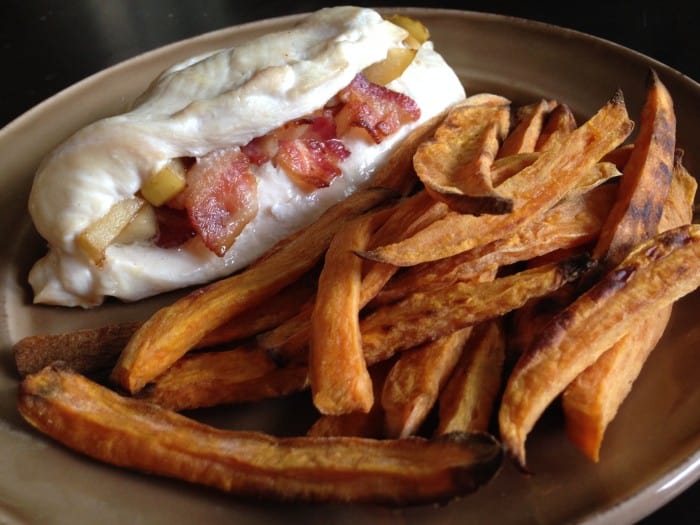 Let's talk about bacon for a minute before I dive into this super simple but delicious recipe. I'll start by saying that bacon is one of those foods that I can actually remember eating for the first time, and, seriously wondered why my mom had been keeping me in a bacon-less bubble for 7 years. What did she have against food that tasted good?
The answer was of course, that bacon, and hotdogs, and most deli meats, are delicious but will kill you dead.  Kill you they will, possibly even faster than you can choke down the mandatory post-cured-meat orange juice (anyone elses mom have this practice?) And really, my mom was actually not off base. Commercially purchased cured meats are loaded with additives and preservatives. But that's not the worst of it. Fatty cuts of pork from the factory farming system are some of the least healthy meats not due to the fat content, but to the poor conditions the animals are raised under, creating lots of nastiness that hangs out in their fat. You can get more info on that here.
But there is no need to rule out ALL bacon just because of the problems with the factory farmed kind. You can seek out a quality source of bacon and use it to compliment and add great flavor to tons of recipes! I really love the pork bacon from  US Wellness Meats but you can check around your local area for a great source.
Apple Bacon Stuffed Chicken with Baked Sweet Potato Fries
Chicken stuffed with bacon and apples and baked to perfection! Paleo and whole30 friendly.
Course: Chicken, complete meal
Cuisine: Paleo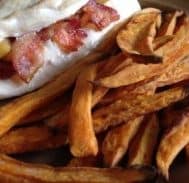 Ingredients
Chicken:
1.5 lbs boneless skinless chicken breasts (the thick ones, not thin sliced)
5 slices *quality see above bacon
1 pink lady apple
Toothpicks
Sweet Potato Fries:
2 Sweet Potatoes any type
1/2-1 tsp salt
2-3 tbsp olive oil
Instructions
Preheat your oven to 400 degrees, peel your sweet potatoes and slice them into "fry shape" about 1/2 inch thick.

Toss the potatoes with olive oil and salt, and place on parchment paper lined baking sheets so they do not over lap (for crispness!) Make sure they are coated well in oil but not drenched. A good rule of thumb is so you don't see excess on the parchment paper.

Bake in the preheated oven 30-40 minutes flipping once, until brown and crisp.

Meanwhile, heat a sautee pan over med-high heat and chop your apple and bacon into bite-sized pieces.

Add the bacon to the pan first and cook, stirring to evenly brown, until 3/4 done.

Add chopped apple and cook together with the bacon until the bacon is browned and the apples are lightly browned and a little soft. Remove from heat and set aside.

Cut each chicken breast down the middle lengthwise on one side, so you open it up and lay it flat (technical term "butterfly") Scoop an even amount of the bacon apple mixture into each butterflied chicken breast, close each one and secure with toothpicks.

Arrange stuffed chicken breasts in a greased (I used extra bacon fat) baking dish and bake in the preheated oven (alongside sweet potatoes) for 20-25 minutes or until no longer pink on the inside.

Serve together and dig in! *Because the chicken breasts are stuffed they are pretty big, so cut in half before serving so you don't offend your picky eaters 🙂