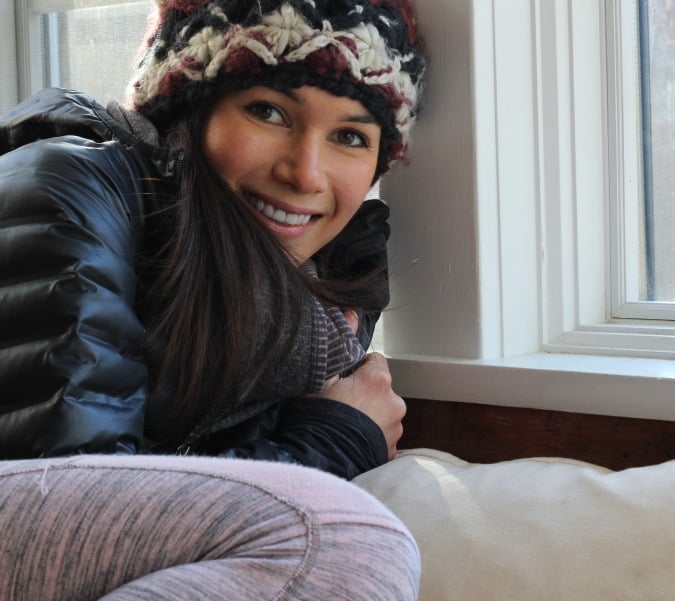 It's not that I'm trying to be all cute and cuddly in my full on winter gear (fine, maybe a little cute, at least with the hat) on my window seat.  It's just that it was so darn cold today (Wednesday) that I'm spending the whole morning at the computer in my winter jacket, hat, and scarf.
Just because I adapt to running in the cold doesn't mean I'm not the coldest person on the planet for all my other waking moments.  Because I am.  It doesn't help that I'm cheap and keep the thermostat at 66 all day – I'd rather just sit around looking like a snowman while taking selfies and blogging than pay the extra $10 or whatever for 70 degrees.
Plus, might as well capture the cold moment because I'm guessing tomorrow just might be 60+ degrees again.  Who knows, this winter is weird.

Today, just like every Thursday, it's time to Think Out Loud with Amanda – who every week I can't thank enough for having a valid excuse to write posts like the one you're about to read.  Random, scattered, a bit on the whiny side and funny only if you are me.
Thought 1 – I'm backing out of a race and here is my long-ish and very boring story explaining why.
So, I'm signed up for two races this month – a 10 miler this Sunday with NYC Runs and the Fred Lebow Half in two weeks.
Adam and I both signed up for the 10 miler back in November after the NYC Marathon because he wanted to sign up for races to motivate him  That one was a cheap one we could run together, actually side by side, assuming my parents could babysit.
All of maybe 4 minutes after I signed us up, credit card and all, I realized it's the same day that both my girls are in dance recitals from 1pm-3pm.  I do not have a good track record with mixing up race and recital dates.  The race starts at 9:15, so, technically it would be possible to run it, and I figured I would still do it with my parents getting the girls ready and meeting us at the recital.
Of course now, the weather looks terrible for Sunday morning (steady rain), and, Adam hasn't trained for the race at all.  So, it would be 10 miles potentially very slow, for me, in the rain followed by no shower and 4 hours of dance recital.  I have to pass – it's not worth it!  I figure I'll do my long run Saturday, and, my parents won't have to sleep over Saturday night.  I'm also pretending the $25 is going toward the Fred Lebow half, which is pretty cheap anyway.  There, story finished!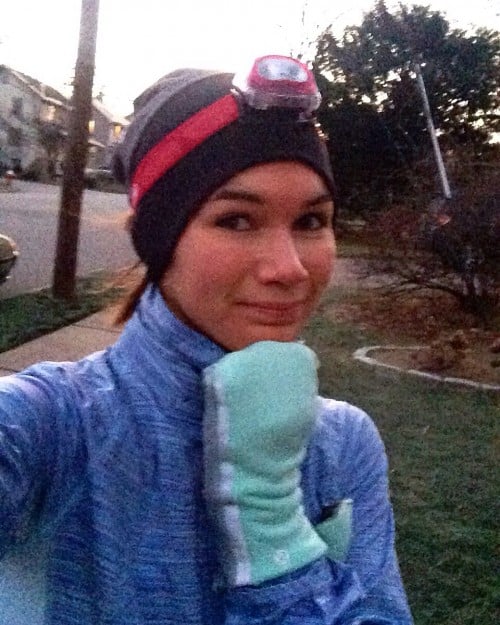 Thought 2 – When it's too cold to use my iPhone touch screen I write blog posts in my head.
I wonder if the above sentence makes sense to anyone at all?  My guess is no.  What I mean, is that on a frigid morning like Wednesday when it's 15 degrees F, there is no way I'm taking off my second layer mitten to 1) put on music or a podcast or 2) track my run with MapMyRun.
What I was left with Wednesday morning was just me running in the cold, which turned out to be nicer than I expected!  I also learned that when I'm not listening to anything while running, my brain doesn't just "think normally" anymore.  Instead my thoughts surface as if I'm writing a blog post – and it's kind of weird.  Please tell me that other bloggers are experiencing this too?
Anyway, during the course of my 5 mile run, I wrote an entire blog post – and let me tell you – it was a good one.  The problem, is that I promptly forgot the entire thing within 5 minutes of being home and there is no going back to those run-thoughts now.  Kind of like a dream you desperately want to remember but it just fades and fades until it's totally gone.
There might be hints of it in this post right now, but who's to say?  Next time I'll have to do voice memos, assuming it's warm enough to touch my phone, but then, yeah, I'll be listening to a podcast so nevermind.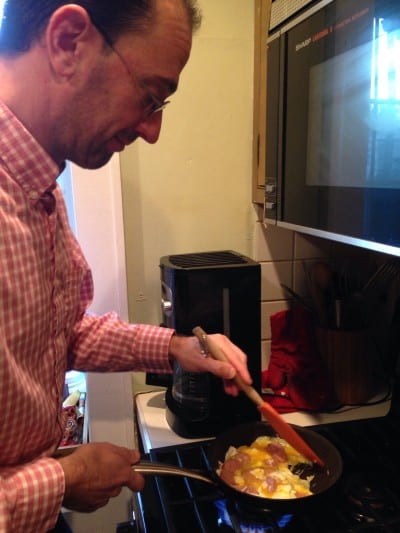 Thought 3 – Adam is still cooking himself breakfast for his New Year's Resolution, except for Tuesday when I cooked it for him (oops, it's out of love though.)
He has not approved this picture so maybe don't tell him it's here.
Thought 4 – Work the egg yolks (supermodel)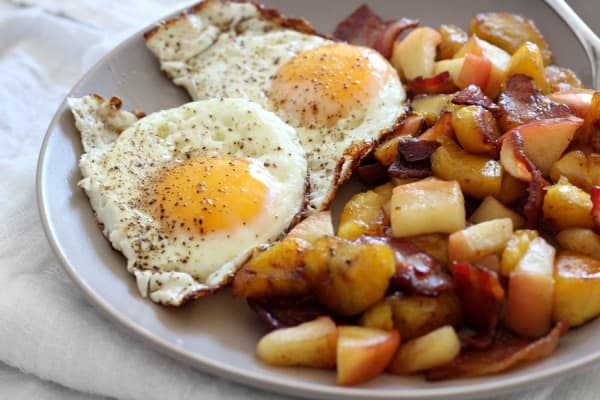 I have a little bit too much fun taking pictures of eggs, if you ask me.  Forget the little girl daydreams about working the runway, I just want to work my eggs yolks and then eat them.
The above photo is my Plantain Apple Bacon Breakfast Hash and it's one of my oldest and most favorite blog recipes – getting a little makeover of course because it desperately needed it!  I'm not completely satisfied with the pictures, but, I make it often enough that I know I'll have another chance soon enough.
Thought 5 – I made you a dessert that's easy, healthy, no-bake, Paleo, nut free, and Vegan.  Is it air?  No, it's not air, it's this: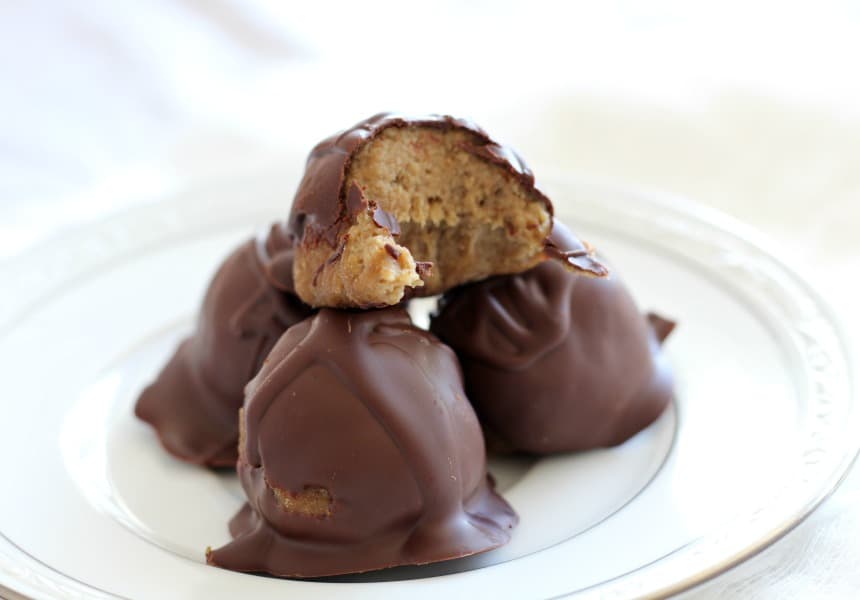 Chocolate dipped banana sunflower butter bites (truffles?) and they totally hit the spot.  Creamy inside, chocolate shell outside = you'll want to try this!  Not sure what exactly I'll be calling them yet, but, hopefully I figure out a name that does them justice.  Better figure it out soon too, because the recipe will be posted tomorrow.
And that about wraps up my thoughts for today!  Funny that I started out with the winter hat, because over the course of the hour I wrote this post the temperature's gone up a solid 10 degrees – so weird!
Is backing out of a race a hard decision to make, even if it's not a big race? (I'm being way dramatic this week about Sunday!)
What do you wind up thinking about when you run unplugged?
Do you have a favorite food to take pictures of?  Do you think I'm insane for asking?