My intros for Thinking Out Loud are usually nonexistent as I just can't wait to dive right into my thoughts.  So hello, here I am!  How are you?
It's time to Think Out Loud!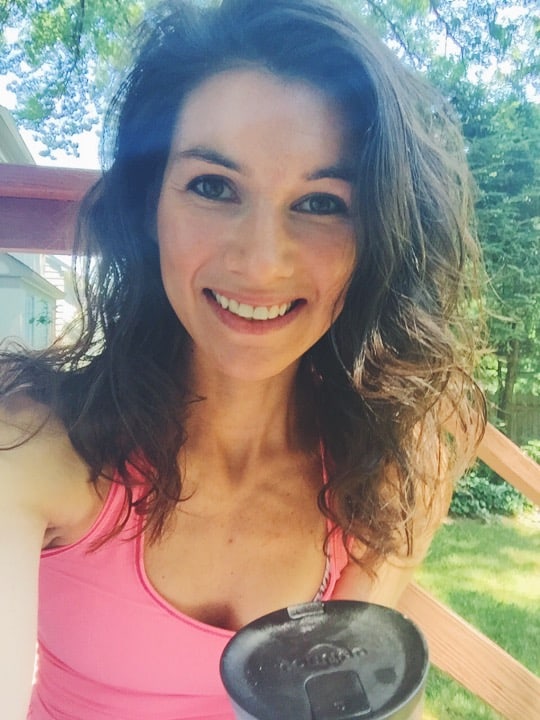 It looks like it's morning and I'm just casually drinking coffee, but no – it's afternoon and this is my second large cup of coffee because it is much needed after less than 6 hours of sleep.
Why don't I sleep?  Oh you know, it's a different reason every night.  ALWAYS SOMETHING, remember?
Last night it was a combination of: 1.) I went to bed too late, 11:30-ish and 2.) Drew was congested/uncomfortable and making noise/sort of crying in his sleep all night.  But yay – the pinkeye is doing better and he's back to camp for a couple of days 🙂
Speaking of eye problems, I didn't catch pinkeye, BUT I did manage to catch a grease splatter while making my lunch today straight in the right eye.  Actually, I'm surprised that doesn't happen more often.  Bad eye karma over here this week, apparently.
Don't It Always Seem to Go…
…That you don't know what you've got till it's gone.  I know typically people say that when they lose something good that wasn't quite appreciated as it should've been, but, you might have noticed it goes the other way, too.
Like when I was pregnant and actually forgot what it was like NOT to be nauseous all the time.  Until I wasn't anymore.  I actually remember the moment I realized I wasn't nauseous – strange right?  I celebrated by eating a bagel with bacon egg and cheese.  Which wasn't any different from any other day at the time, but still, eating is better when you're not nauseous.  Celebration!
Or, when you think your IBS symptoms are doing well until you start taking a probiotic that makes you realize that they weren't quite as "gone" as you thought.  I won't say more because then I will totally jinx myself, but so far, so very good with the VSL#3!
Or, when you only realize that you were hopelessly addicted to a.) Lululemon b.) running c.) cleaning <– (in my dreams!) until you just aren't anymore.
Isn't it funny how perspective just gets lost in the moment sometimes?  What won't I realize I have right now until it's gone?  Besides everything?  I'm aware of the coffee – that is for real.   I'm stumped – I'll have to let you know next week.
What to Avoid While Oil Pulling
So, oil pulling is going really well.  It fits nicely into my morning routine right after I feed the cat and before I run/do yoga/fully open my eyes.
I've been going strong for two weeks, and, so far my mouth definitely feels cleaner – though I can't claim I've seen any other benefits yet.  Maybe it would help if I actually knew what benefits to expect, for one.  I will check soon.
Anyway, I've noticed there are a couple of no-no's, don't's, "things to avoid" while swishing that oil, if you can.
1.) Avoid yawning.
It's hard not to yawn at all within 20 minutes of waking up.  I almost "forgot" I had coconut oil in my mouth when I yawned the other day – not good.  Just a heads up – keep your mouth closed if you yawn while oil pulling!
2.) Avoid hiccuping.
I had the hiccups the other day for some reason and it was challenging to hiccup and oil-pull at the same time.  Not that you can really control this, but still, just saying.
3.) Avoid being around people that need to be spoken to out loud, i.e. children.
I might have freaked out my kids just a little over the weekend while oil pulling in their presence.  I didn't think to mention it to them since they're normally sleeping while I do this, so when they came downstairs to see mommy unable to talk – and with a full mouth of something – they were really confused.
As a side note, husbands will love to have the opportunity to be around a wife who can't talk back.  Adam may or may not have set his alarm just to experience this.
Now, some things you definitely SHOULD do while oil pulling.
1.) Check email and do boring computer tasks.
20 minutes flies by like whoa when you're deleting/reading emails.
2.) Empty the dishwasher.
Because this isn't fun whether or not you have a mouthful of oil.
3.) Make a to-do list.
Number one – oil pulling.  See?  You can check off the first thing already.  YOU WIN.
Now, you're turn!
What's something BAD you didn't realize was all that bad, until it was gone?
What's on your mind today?
How many cups of coffee for you in a day?