I am nagged by so many things that I can hardly keep track.  Still, before blogging, I never would've imagined that recipe ideas would nag me with such persistence until I finally "take the risk" and try them out.
This can get pretty intense, since you know how I feel about getting burned with recipe heartbreak.  I hate how vulnerable I get when I whip out my almond flour and those Enjoy Life Chocolate Chips that I love so much (and that don't exactly grow on trees, either.)  It's a tough risk to take, but when things come out exactly how you want them to, it's all worth it, right?

As you know by now, Thursdays are for Thinking Out Loud and that's what imma 'bout to do, as if the intro didn't already give you that vibe.  I'm thinking out loud on limited sleep once again today, due to child number 2 going down with a stomach bug last night.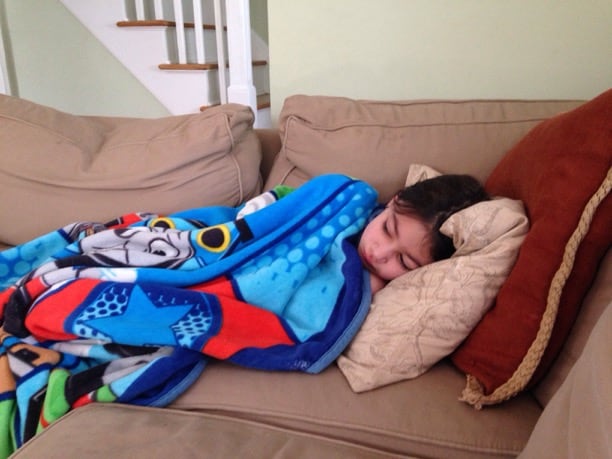 She's doing better today and resting, but I'm still traumatized from what went down between the hours of 5:00pm and midnight on Tuesday night.   Please, give me fevers of 104 and croup cough and even pneumonia – no, I do not like those things but yet I don't physically panic about them the way I do when one of my kids has come down with a stomach bug.
I am literally praying to the germ gods, wherever they may be, to please spare the third child because I'm not sure my nerves can survive another night like that in the near future.  Apparently tons of kids at the elementary school have been sick with this, I'm just curious why there was such a big gap between the two girls getting sick – in other words, I'm paranoid that this is actually two different bugs, which means this one can start the cycle all over again.  As you can see I really am an unstoppable lunatic when it comes to these things, so I will put it to rest for now and move on.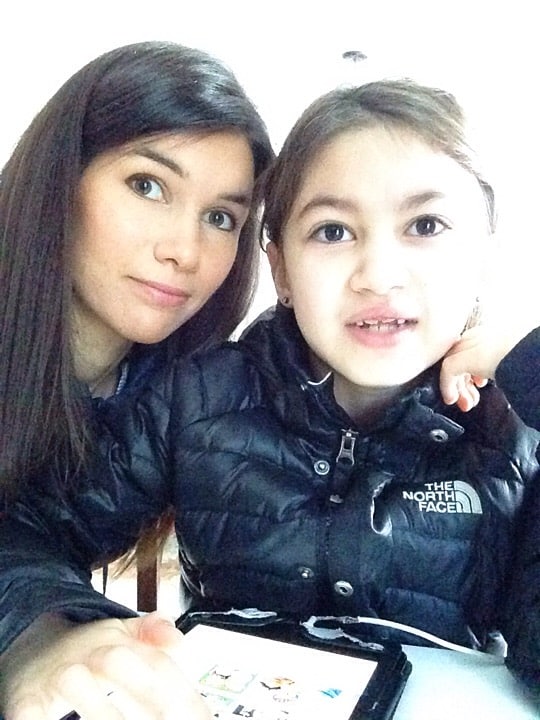 Definitely doing a bit better now, she was wondering why her skin looked so pale in the picture.
Let's go back to the whole recipe nagging thing and then I'll let you in on the little something that I just don't care about no matter how much I've tried to all my life.
It was last Sunday, and I happily reported to Adam that I was getting tons of blog traffic from Pinterest all day long.  Without looking at me or missing a beat, he motioned to the TV and said "it's because of this.  Everyone's watching football and on their phones."
Then he said, "I hope you have a few Super Bowl recipes ready to go" or something of that nature.
Of course, I really don't, I'm much more of a brunch kind of girl in case you guys haven't noticed.  Basically, my recipes go from Thanksgiving to Whole30 to Valentines Day because that's the food I like to roll with, and roll around in  (or just eat, you know what I mean.)
BUT this darned sweet potato bacon burger recipe thing has been nagging me for weeks, and after Adam saying what he did…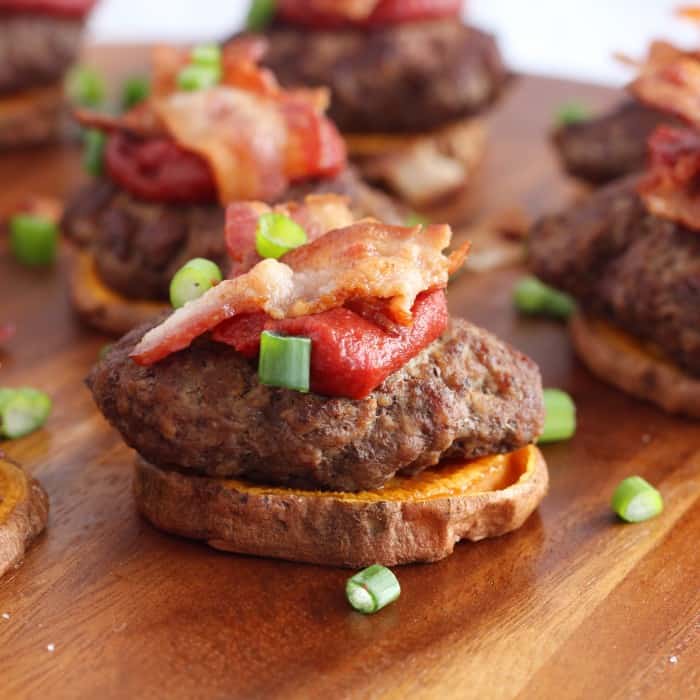 I FINALLY took the risk and made the darned thing.  It's really just everything I eat on a normal basis put together in appetizer form, I'm not sure what the delay was. Except that maybe I'm secretly rebelling against the Super Bowl.  In fact that's probably 100% it, come to think of it.
You see, the thing I can-not, will-not, have-tried-to-but-it-never-works have even the tiniest feeling for is Football.  Okay fine, it's every sport that involves a ball.  Just can't feel anything either good or bad.  I don't even NOT like it – I just don't care at all.  It might as well not even exist to me in this world for how little I think about it.
Which is strange, because Adam thinks about sports probably 96% of the time, and appears to care very deeply about these "games" that are constantly happening.  He always says I'm such a good sport (haha) about how much he surrounds himself with football, baseball, and whatever else – but I'm just like "what are these things you speak of?" I just wasn't even paying attention at all.
Most likely I was being nagged too hard by butternut squash noodles (oy) or banana caramel cookies (they don't exist…yet) to notice the sweaty, injured men on TV or on their own couches air punching at the TV and crying.  If I do ever notice, I usually giggle and that's the end of that.
Is there something that other people get into that you just can't and have zero desire to try?
What nags you?
What is your least favorite illness to deal with either for yourself or your kids?