Originally for today's Thinking Out Loud post, I was going to tell you all about how I dreamed of kombucha (literally, in the middle of the night.  Clearly this is now representing more than just probiotics.)
The dream involved me anxiously checking on my brewing kombucha (which is on the 7th day and ready to be, er, sampled.  Oy!)  But, I was sidetracked by a comment on my "day in the life" post that made me think.
I'm still hot and bothered about the kombucha though, and you will definitely be updated on the status ASAP 🙂

Reading this comment from Amanda allowed me to pinpoint something that's been bothering me lately but is difficult to articulate.  Here's the part that did it:
"I'm wondering what you are cringing at. You did a lot! And the fact that you have two girls so close in age allows them to play together. I am not a mother but I tend to cringe when mothers feel guilty about not spending more time "attending" to their kids. In my mind, kids want to play with other kids. The parents are there to feed, drive, buy them things (ha!) which is exactly what you did all while providing a safe environment."
I started thinking – what was it about my day that made me cringe?  On the surface I could go the old "spent too much time on the internet" route, but that would not be telling the whole story.
What the hell am I doing?
I cringed when I realized that I spent a LARGE chunk on my day "working" on the internet, meaning blogging, connecting with other bloggers and with readers, tweeting, facebooking, instagramming, pinteresting, emailing, etc.  I realized that I have been doing this, nearly every day, several hours a day, for over a year with the hope and intention of growing my blog, my social media accounts, and, my "brand" into a business.  Over the past few months or so, I've been putting even more time and focus into it.  While I definitely enjoy connecting with bloggers and readers (I love you!) writing blog posts, and creating new recipes, it has most definitely tipped the scale to where I can't deny I am putting WORK into it all.  Yet I still remain somewhat in denial about my own intentions.
Technically, I AM running a business, but my mind won't let me really believe that.  Maybe because I'm scared of failing?  If I tell myself I'm just a stay at home mom with an active internet hobby (and an LLC, how the heck did that get there?) I have nothing to lose.  But, if I'm being honest with myself, I know that I'm putting a ton of energy and time into my blog and its promotion because it would be flipping awesome if THIS could be it for me.   As a mom of three, to be able to run my own business from home would be an ideal situation.  Maybe it's even up there with "dream" status.  But, reality has a voice, and lately it's been yelling at me, taunting me, haunting me, and laughing at me.
Something has to give – workwise – for me, very very soon. 
I wrote a post about blogging for money, nearly a year ago, explaining that it's not feasible for me to be a stay at home mom longterm.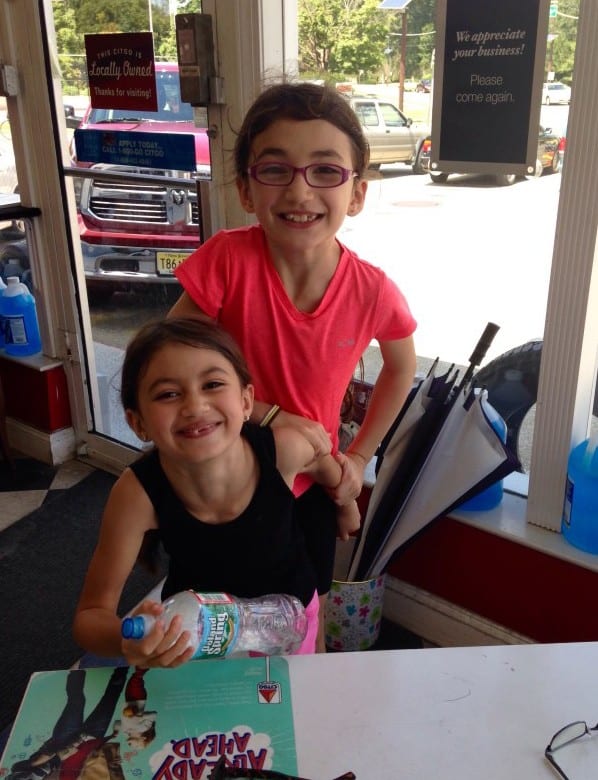 The comment also spoke to me because it pointed out that my kids can now spend hours independent of me, doing their own thing.  That is, of course, why I have all this time to spend on the blog to begin with.   But, knowing that's the case makes me feel guilty for not using my time in a way that will bring home the bacon (yup, bacon.)  For all the cooking and taking pictures of bacon that I'm doing, I'm keenly aware that these actions are not currently earning me any significant, er, bacon.
What I think I've failed to see, is that I'm already a working mom in SAHM's clothing (literally), but, because I'm scared of failing and feeling guilty that I'm not making money already, I will not call myself a working mom.
So what does that mean? Who cares what I call myself anyway, why do I need to label?
It means I don't set tangible goals for my blog, or reach out to companies to partner with.
It means I have no business plan, and no real plan at all.
It means I feel guilty and selfish when I choose to blog instead of doing activities with my kids.
It means I'm currently going through the process of getting my Social Work license back, because it's "what I went to school for" and therefore, "real" work.
It means that as I write this, I wonder if I sound like a complete moron. Am I really a working mom? Or just a delusional lunatic?
Do I need to just put on my big girl panties anything that's not yoga pants, make a decision, and make a plan?  Continue on as I have been?  Go inquire about a part time job at the Walgreens down the street?
I'm truly confused and don't know right now, so there won't be a conclusion to this post.  I think all of blogging is just one big "to be continued…" anyway, and that's one of the parts that I love so dearly about it – the ongoing conversation.  Plus, I probably just did at least a months worth of therapy, all because of one reader's comment on a random WIAW post 🙂  If that's not bang for your buck, then – really – what is?
Any and all thoughts in response to the questions in the title are more than welcome!