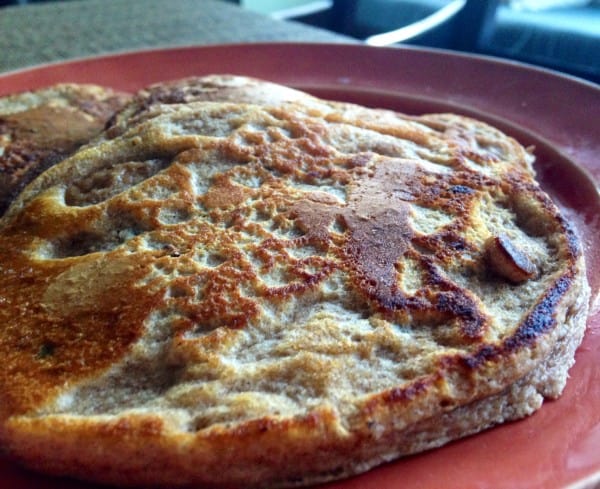 Super simple and healthy gluten-free pancakes that actually PASS a family taste test?  Um, yes please, sign me up right now!   About Time has just released a new gluten free, protein filled pancake mix in two flavors, and we were lucky enough to try it out.  They must know my family because they sent us the chocolate chip, and seriously if you have kids, you know that anything chocolate chip gets the stamp of pre-approval.   Skeptical as I can be, this exceeded expectations and made for a nice surprise on a weekday morning.
I'm definitely not one to whip up pancakes on a weekday morning.  Eggs, yes, I'll do eggs as you know, but pancakes trip me up for some reason, which is probably why I have not one pancake recipe on my blog!  These could not have been easier though.  You can either add water or whatever choice of milk you like, and boom, you have your batter ready to go.
The batter formed perfect-circle pancakes on my griddle (this is where I usually have problems!) were easy as pie to flip, and were ready within 5 minutes, no joke.  I totally prepped my kids that they were "protein pancakes",  "might taste different" and "might taste like grandmas protein bars" but it turns out I didn't have to do that at all.  And actually the grandma's protein bar thing was a selling point for them oddly enough.
The About Time Chocolate Chip pancakes have 21 g protein per serving, 6g fiber per serving. Each serving is 2 six inch pancakes (a total of 70g dry mix) with 10 servings per container.  These are not paleo, but they are gluten free, with gluten free oatmeal flour being the first ingredient.
I might not be the pancake making queen and my flipping abilities are lack-luster, but I cannot imagine pancakes being easier to make than these were.  My kids said they tasted homemade, like chocolate chip muffins. They happily ate them without any toppings (I had mixed with organic whole milk) and some fruit on the side.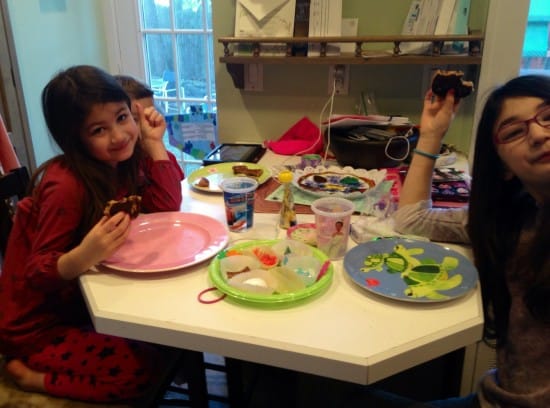 I also got to try 3 other About Time products – The fruit and nut protein bars were my favorite.  I can't even pick a flavor that I liked the best between Chocolate Brownie, Island Coconut and Pecan Pie.  Maybe the Pecan?
Honestly these were perfect as a pre or post run snack or an on-the-go afternoon snack and once I tried one I didn't want to share the others with anyone in my family, so I hid them.
They are completely Paleo, sweetened with dates and have only a few ingredients which are all real-food clean ingredients.  The Island Coconut includes just dates, eggwhite protein, and unsweetened coconut.  You can't beat that!  Perfectly chewy, great flavor, just sweet enough and satisfying.  I want more, they were gone far too soon!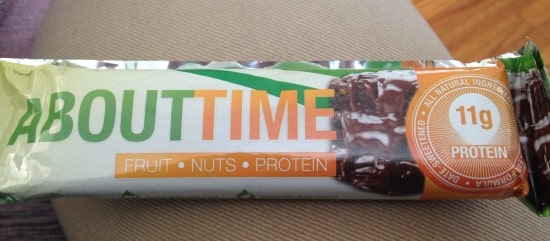 The other two products I tried I was specifically interested in in regard to my running and recovery – the Pre Workout Formula and the Nighttime Recovery Formula.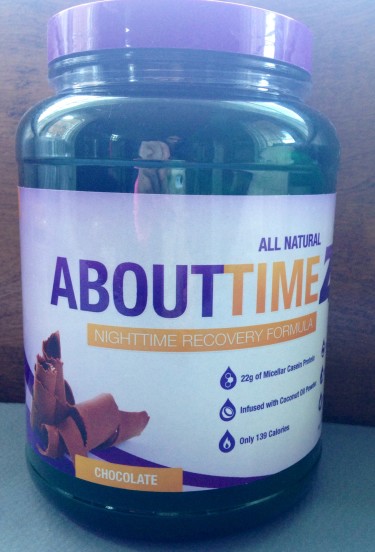 When I'm training hard I find that sleep sometimes suffers and the nighttime formula intrigued me because it promises to help recover your muscles as well as improve sleep.  I tried the chocolate and found that it blended well in a smoothie.  You are supposed to have this within 30 minutes of sleep, so if you are open to a nighttime smoothie it makes a pretty nice bedtime snack that will help your muscles get the rest they need.
I love that it includes coconut oil and a digestive enzyme blend.  It's a Casein formula, but I am mainly lactose sensitive and this didn't bother my digestion in any way.  Also it contains no sugar alcohols which is great, because that is a deal breaker for me.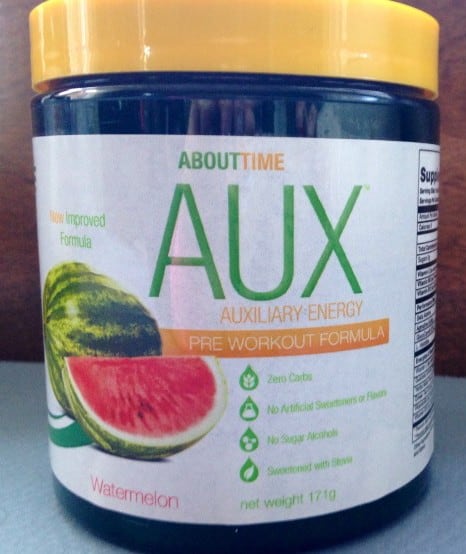 The Aux pre-workout formula I was very impressed with.  It's a supplement meant to both increase your performance during exercise as well as help speed recovery.   I don't normally use supplements but the taste (watermelon flavor) worked for me as well as the ingredients, and the absence of sugar alcohols once again!
I have found it somewhat difficult to find products that don't contain sugar alcohols, and, About Time products do not contain them, which means for me they are very easy to digest and even work even for the sensitive pre-run time when I sometimes feel like I can't consume anything without bothering my stomach!
Visit the About Time website and follow them on Facebook, Twitter, and Instagram for more info!
This post is sponsored by FitFluential on behalf of About Time.