Greetings from February means 2 things almost every year – snow/ice takeover and germ takeover.   They both remind me why the time from now until April is just plain hard.

Since this morning we had the best running weather that there will be all week (so, so relative) I decided to get out for 6 miles and figured I could use the time to think.  I do some of my best objective thinking while running outdoors and this morning was no exception.  Unfortunately, as soon as I returned home to a feverish child I forgot all those great thoughts, so, today for Thinking Out Loud, you'll get what came after.  Thanks for hosting the link-up, Amanda!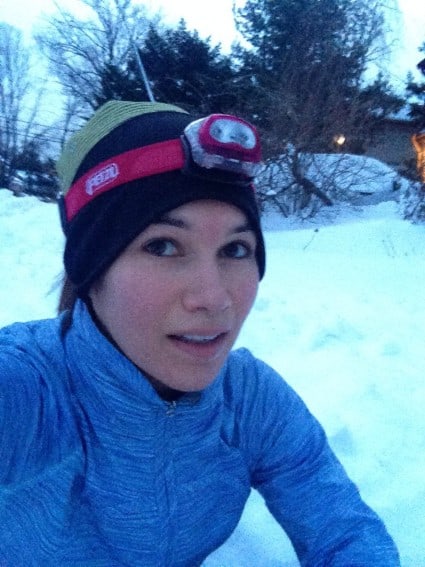 I always feel like the worst mom ever when I get annoyed at one of my kids for not eating what I served them, and, it turns out he/she is sick.  
This is why every time it happens, I vow to never express dismay over an unfinished/uneaten meal.  I then forget that vow, irritation and anxiety prevails and I do it again.
The truth is, I'm neurotic about illness and my irritation over my kids not eating is actually disguised worry that they really are sick.   Maybe you guys remember my post about my own denial of being sick.  I'm sort of that way with my kids too.  It's that darn desire to be in control and that fear of something going really wrong.   Several experiences of a single virus taking weeks to fully clear our house only makes this anxiety worse.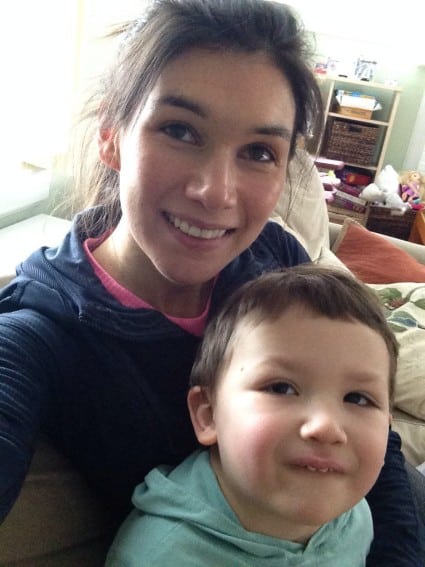 What else makes me anxious – especially with the very young ones – is that they often have a really hard time communicating what's wrong.  Or maybe I just have a really hard time hearing it.
After I asked my son why he didn't want breakfast, he pointed to his mouth and told me "it hurts."  Since I'm super paranoid about stomach bugs I immediately thought he meant he was nauseous and started panicking.  Of course, if I had remained calm I would have realized he meant his throat, because, duh, it's just behind his mouth and that would make sense.  Also, both my girls used to say "mouth" when they meant "throat."
In my anxious-mom panic I asked him, like, 50 questions in 30 seconds about how he's feeling (are you hot? cold? tummy hurt? tired? head hurt?) to which he responded by first staring at me blankly and then repeating "I said!  My MOUTH hurts!!!"
Later he told me it hurts behind his chin and his neck, so, bingo, we had a winner.  A sore throat and low grade temp meant no school, a doctors visit, and lots of couch time for us.   It will also mean I most likely won't be sleeping for a few nights to come (sick child = non-sleeping child) so the couch-rest is not a bad thing at all.  I swear I could have 10 kids and these bugs would continue to blindside me every time.
What else is on my mind?
Honestly, it's so "been there said that" but I'm still thinking about snow and crazy cold temps.  I wish I wasn't still thinking about this because it's a boring and annoying subject, but when I look at my weather app and see snowflakes and 3 degrees in there it just feels hard to ignore how unpleasant it is to go about normal activities outdoors.
To be fair to the winter, I also feel this way about heatwaves in the summer.  Basically under 20F and over 90F are hard for me to look past.  And yes, I know I'm the first person to feel this way ever in the history of the world.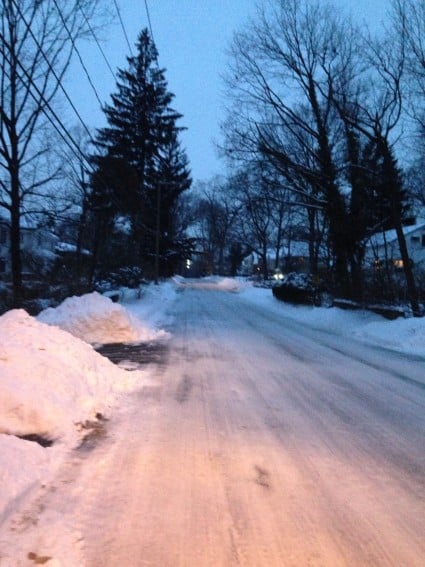 To end on a positive note?
I really enjoyed running this morning.  Two days off that were spent almost fully indoors had me happy to take on the hills out in cold air.  While I'm still feeling very much the same as I expressed in my post on Monday, without pressure to train on a specific schedule, running outdoors does feel good physically and helps clear out my thoughts. It also helps that nothing is physically hurting me.  That is something I definitely do not take for granted anymore!
Have you been sick much this winter?
For those of you with kids – are you calm when they get sick or temporarily have a lunatic moment when you see it coming on?  
Anyone have tips for staying calm/positive when it seems like it's one bug after another?