I haven't done a day in the life WIAW post for quite a while, so here it goes.  Dum-dee-dum-dum spoiler alert – there's nothing exciting about it.  Or is there.  That all depends on your perspective, I suppose.  Buckle up and get ready for the ride!  I'm tired already 🙂
Thanks for the WIAW link-up, Jenn!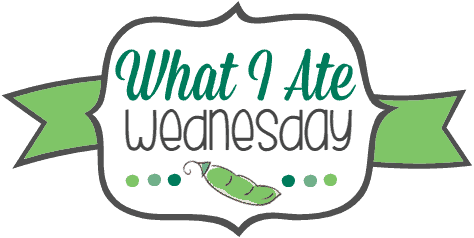 This particular day was not a typical schedule for me because I ran after dropping the kids off at school, which only happens when Adam is away.  I normally would rather skip a run day altogether than run at 9 or 10am, but, this week involved lots of snow and by Friday I'd only run twice.   That is really not acceptable in my world if there's nothing really wrong with me, so, I was determined to get a few miles in.
5:00 am – I woke up when Adam left for the airport and I didn't go back to sleep.  I read a few blog posts on my phone and then headed down to the living room to do yoga.  I think I probably had a few sips of water because I always do when I first wake up.
5:30 am – Started Renewing Power in Flow – Twists, an hour long intermediate class.  By about 6:15 Drew came down to join me.  He quickly got bored and went back upstairs to wake up his sisters and play in their room for a bit while I finished up yoga and started unloading the dishwasher.
6:45 am – Went upstairs to hang out/chat with my kids while getting dressed in running clothes.  I looked outside to see the roads were still really snowy/icy.   Also folded some laundry.
7:15 am – Made Breakfast for everyone.  My kids had some combination of eggs, cereal, fruit and milk and I made myself 2 eggs and fried plantains.   The thing that gets me about running later on is not being able to eat a big breakfast like I like to.  This was great but I missed the greens and meat and still felt hungry.  For running though, I've learned it's good to feel as "empty" as possible if I want my stomach to behave.  I also can't drink coffee before running for the same reason.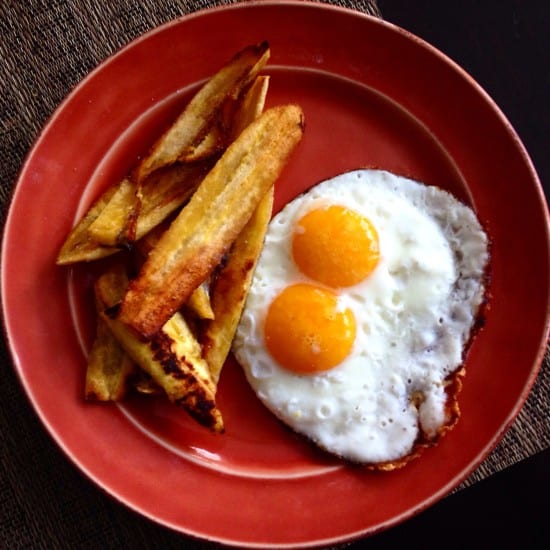 8:00 am – After breakfast I read/commented on blogs while my kids played, got dressed for school and brushed their hair, teeth.  I got my son dressed and at 8:20 we left.  By the time all the school drop-offs are done, it's 9:15.
9:20 am – I went out for my run and it was a total mess – icy, snowy, and freezing.  My feet were numb for almost the whole 40 minutes.  I ran just over 4 miles.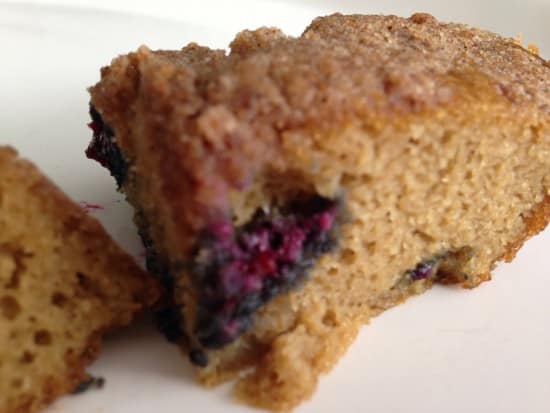 10:00 am – Pretty much the minute I walked in the door I ate two squares of my Blueberry Cinnamon Breakfast cake.  I honestly think the topping tastes like Entenmann's Coffee Cake, but you'll have to be the judge of that.  I also had my coffee with coconut milk finally which made the whole icy run worth it.  Even a bad run puts me in a good mood.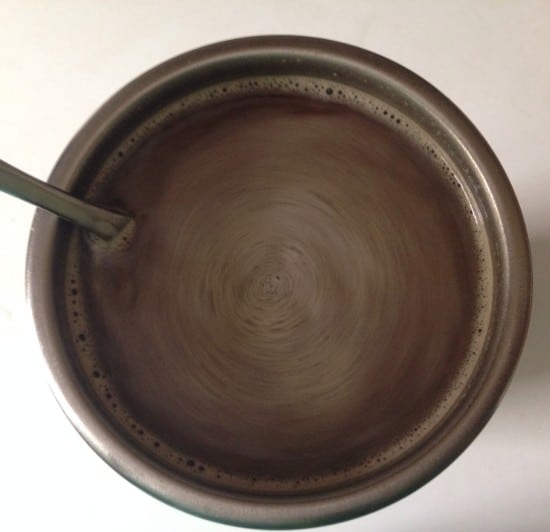 10:30 am – Grocery shopping/errands.   My kids can't express enough lately how much they don't like doing errands or any sort of shopping with me.  That's what happens when they don't HAVE to come with anymore!  Since I was solo parenting for the weekend, I got out for shopping while all were still in school.
12:30 pm – Groceries were home and in the fridge and birthday present purchased.  I made myself a quick lunch to eat for after picking up Drew.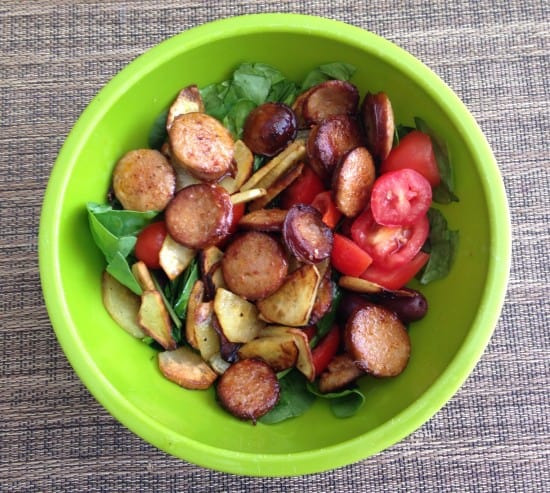 Spinach, parsnips (pre-roasted) tomatoes, kalamata olives, and pre-cooked Chorizo sausage (Wellshire farms.)  I usually leave the house at 12:35 to pick Drew up at preschool.
1:00 pm – Return home from school with Drew hung out with him on the couch to chat while I ate.  Normally we play together for a little while during this time, but this day was different since I hadn't yet showered.  So, I made sure to get that done first!
2:00 pm – A mixture of playing with Drew plus getting my weekly workouts post together.  I usually blog in the morning while he's at school, but for a post with less thought the afternoon works too.  Plus Kombucha.  That pretty much mentally fuels my entire afternoon 😉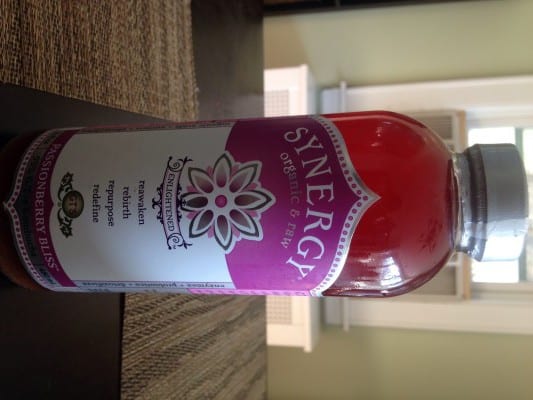 3:00 pm – Pick up my girls from school.  Today I also picked up my daughter's friend for a playdate at our house. When we got home I gave all the kids snacks, cleaned up the kitchen and randomly straightened up the house.  Once they were set playing I finished up my blog post and zoned out on the internet for maybe 20 minutes, while eating my own snack.  Other days of the week this time slot is filled with activities – Friday is our day to relax.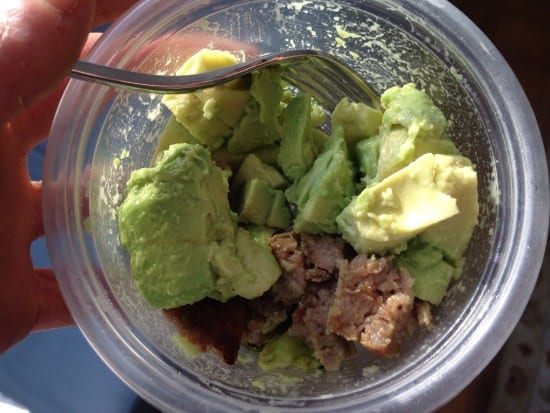 4:00 pm – I guess you could say this was a low maintenance snack.  For the sake of total transparency, I'll admit it involved Drew's leftover dinner from the night before.  So it was a few pieces of his sausage and roasted broccoli, microwaved, and then topped with half an avocado.  Super fancy.  And yes, I do eat things like this in the car if we're running to after school activities.
4:30 pm – A mix of relaxing on the couch with Drew and stretching on the yoga mat with him.   That's his hand 🙂 I probably also did some sort of laundry lugging/switching because I do that typically before making dinner.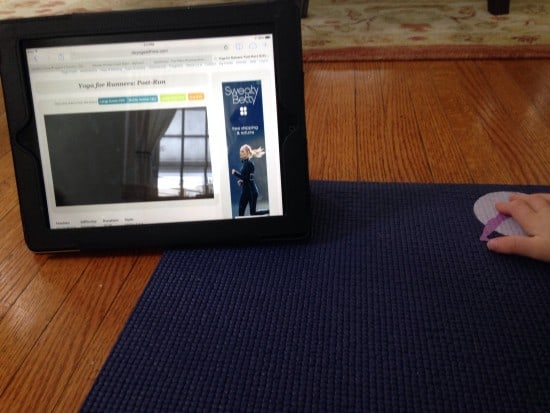 5:15 pm – Time to make dinner.  Pan fried boneless chicken thighs in coconut oil and sea salt with sauteed chard and roasted white sweet potato fries.  My kids had the same except no chard, they had sliced cucumbers instead.
We ate right at 6pm which is the "ideal" time that seems to work for all of us.  The next two hours are a whirlwind.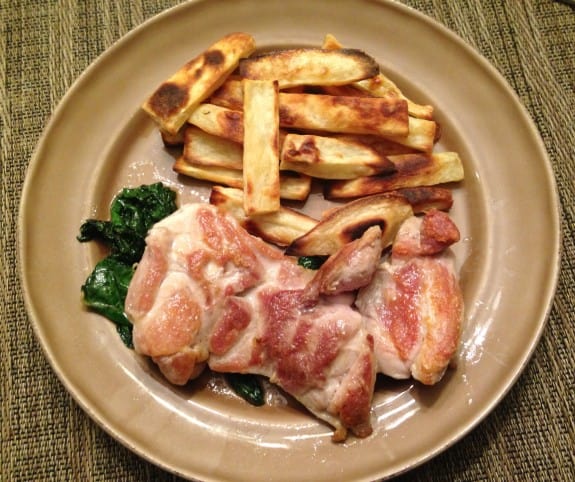 6:30 pm – Kitchen cleanup, followed by me telling the kids 10 times to clean up their toys and clothes and artwork, followed by me asking them why they haven't cleaned anything up yet, followed by them ignoring me for the 11th time.  I feel like this routine is repeated nightly and I don't have the energy to figure out how to break it!
7:00 pm – Bath/shower and laundry time.  The girls take the shower, Drew takes a bath and we all fold and put away laundry.
7:30 pm – Snack time for everyone.  Sometimes I eat a snack with them and sometimes wait until they go to bed.   On Friday it was with them.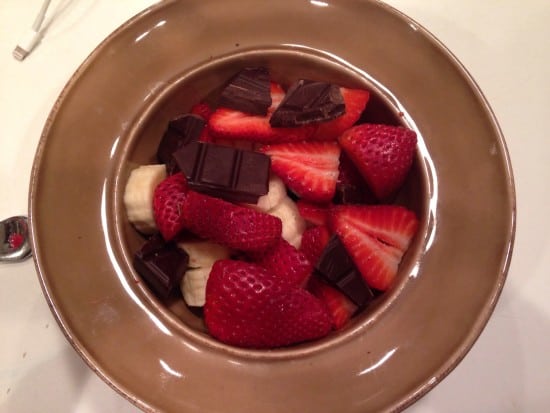 For me, it was sliced bananas, strawberries, and some dark chocolate.  For them?  I don't remember exactly but probably also fruit and chocolate, except not the dark stuff.  They were still working on their treats from Emily's birthday party.
8:00- 8:15 pm – Bedtime for the kids.  I think for every mom this is that time when you realize just how tired YOU are after a full day.  I still sit in Drew's room while he falls asleep, the girls share a room and chat before putting themselves to sleep.
8:30-9:30 – I can't totally remember and this time period is usually a blur anyway, but I'm sure it involved a little blog reading, Instagram, and online shopping.  Since I'm not big with TV, online "window shopping" is how I completely zone out.  Then I go to bed relieved that I didn't actually buy anything 🙂
I got everything accomplished that I wanted and needed to, which is always a good feeling, and everyone went to bed happy.  Success!
Moms – when do you feel the most tired?  
What do you do to unwind at the end of the day? 
Do you eat with your kids or feed them separately?