I've NEVER had writer's block.
Okay before you punch my website in the face, unsubscribe from my list and start writing an angry email, you should know that I'm kidding, big time.  Everyone gets writer's block.  I mean everyone who writes, that is.  And since my goal has been to turn out 6 posts a week that someone might actually want to read (or at the very least, skim) I've certainly had my moments over the past 8 months.
The thing is, is that the typical tips for writer's block don't work well for me.  Perhaps my mind just rebels against things like brainstorming, outlining, and planning in general.  Reminds me of group projects in school, and I hated those.  Plus, when I have writer's block, NOTHING seems worth writing about.  I'm in need of a big intervention to shift my perspective and bring creativity back into the picture.  It doesn't take time, just focus.   Here is a list of the 7 most effective things I've done to get through writer's block that have led to some of my best posts!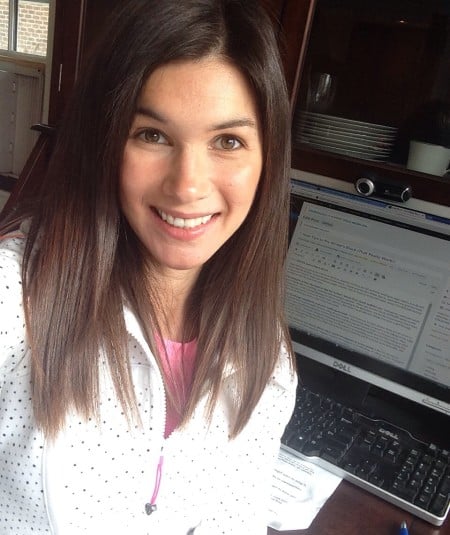 1.  Stop thinking completely and start looking around.  Your brain can be your enemy when you sit down to write.  Look around you and really observe using all your senses.  Remember when I started a post talking about a big scary bug?  I was actually having major writer's block but took that bug and turned it into a cute post about "what husbands are good for."  Because I stopped thinking and pressuring myself to write something useful and started looking at what was around me.  Maybe it's a bug, something you see out the window, something your kids are doing/saying, or the mess in your kitchen.  But, once you get out of thought-mode and into observation-mode your creativity will flow much more naturally.  Well, only if you also do number 2:
2. Say what you NEED to say (write about what you're trying not to write about.)  Maybe I'm just an intense type, but there is always something "nagging" me that I'm trying to avoid thinking or talking about.  It doesn't have to be anything incredibly scandalous by any means, just something in the back of my mind that I haven't brought to the surface yet.  You might be telling yourself to write a post about holiday cookies or winter running gear but you feel no inspiration because there's this OTHER thing that won't go away.  It's creating some feelings possibly that you don't want to deal with.  This is when you know you need to drop any other potential topics and write about the nagging thing.  An example of this is when I wrote about "the things you can't run from."  I tried to write about 10 different things that day, but ultimately once I decided to just write what was nagging me, the words flew onto the page with surprising coherence.  Give your neurotic obsessions gut feelings a chance.
3. What's the "theme of the week?"  I've noticed, only really from blogging, that each week has a certain theme attached to it in my mind, characterized by what I'm thinking about, what's going on with my family, how I'm feeling, my training, or anything else pressing.  While the daily happenings might seem mundane, there are lessons to be learned everyday that are broader than the details.  Sit back and look for "themes" in your day, week, month, year and write a post related to that.  Since it's real and current it should flow pretty easily.  It will also bring you insight, connect you to what's happening in your life, and help you reflect on what you're learning.
4. Find humor in everything.  Seinfeld knew what the hell he was doing, let's just say that.  Sometimes just finding the humor in "nothing" leads to great writing, or at least writing that's entertaining enough for someone to read for 3-5 minutes, which is what most bloggers are shooting for, I think.   Everything can be funny if you look at it like it's funny.  Don't be scared that others won't think the same, just go with your own taste in humor and the writing will be fun.  Bonus points here because seeing your sense of humor (even if it's more "ha" funny than "lol" funny) will give readers the feeling that you like them and that you're their friend.  And we all know what we do for our friends, right? We try to read their blogs on lunch and bathroom breaks, that's right.  Or at the very least we'll binge-read a handful of posts when we have no good plans on a Sunday.  You get the picture, it's all good.
5. Okay so I hate schedules, but, get a loose schedule going.  If you're going to try to blog 5-7 days per week and you want to maintain a semblance of a life outside of blogging, you WILL have to conform to a LOOSE schedule at some point to avoid massive writer's block.  For the first 3 months of blogging I had enough juice to avoid a schedule, but, it's just not sustainable long term.  Now, I know that on Wednesdays I will do a WIAW post, Friday is a recipe, and Saturday is a training update.  That leaves Mon, Tues and Thurs open for debate, and I like it this way.  That's only 3 days to really deal with writer's block!  And if I'm really dying one of those can be a lot of pictures, like I've done here.
6. Ask other people for topics to write about and then tweak them (or change them completely.)  Sometimes you just need other people's ideas first so you can shoot them down and come up with your own.  I've done this with my husband and also with online searches for topics.  Basically, you ask someone to think of a good topic to write about, then when they give you ideas you respond with something like "that's the dumbest thing I've ever heard!" and then your brain will start formulating a rebuttal and thinking of ACTUAL good things to write about.  Things that matter to you and topics that come from your heart (or your passion for disagreement.)  I came up with this post after my husband had an idea for something totally different, which I don't even remember now.
7. When all else fails, write a list post.  With a lot of pictures and not much actual writing.  If you've gotten to where you have a couple of topics but the words fail to flow properly, organizing your thoughts into list format can be a way out.  Set a number of points and then tweak the number to whatever works out.  Don't pay attention to the fact that I have "7" today.   I like 7 and I can think of 7 things pretty easily.   Without giving too much away, I might have used a few of these tactics on myself today.  Or possibly all 7.  Hey, I mean it worked, right?  I wrote a post and you got all my best tips for dealing with writer's block.
Win win, just like I said.   Now go write something that will go viral the minute it's posted, do not hold back.
What is your most effective tip for writer's block?