I finally made it back to the track after almost a year.  I never did formal speedwork while training for marathons and always found the track really boring and painful.  But I have goals for speed now.  And one of the parts of my training that needs to change is my avoidance of the track.  I plan to do a speed workout every other week, alternating with tempo runs the other weeks, in order to improve my 10k time.
It's 1.3 miles from my house to the track so it's the perfect built-in warmup.  This morning I left my house about 5:40 feeling as good as I ever feel at that time of day (I don't feel good at that time of day).  I considered not bringing my phone but decided to take it, and I'm SUPER glad I wound up doing that.  Maybe 3 minutes after I started my jog to the track I remembered that this had happened last night: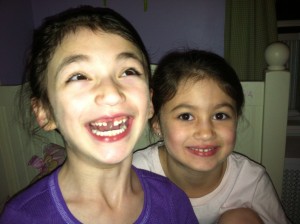 And, like the tired tooth fairy I am, I forgot to do my one and only tooth fairy duty of just making sure the freaking money is under the pillow (obviously my husband forgot too, but men don't seem to feel guilt over these things).  So there I am running to the track, texting my sleeping husband to put the money under the pillow.  I'm seriously thankful he sleeps with the phone practically on his head, because he got the message and got the job done, all while I was still jogging over to the track.  I wish I could say this is the first time this has happened but it's actually the second, lets just say the first time we had to be a lot more creative!
So, feeling like I could conquer the world now after dealing with the tooth fairy emergency, I entered the track.  My plan was to do 5x 800 at a 6:45-50 min/mile pace, with 400 jogs in between.  The built in warmup and cooldown were each 1.3 miles, for a total of 6.4 miles.  Here's what I learned from the workout:
1. Running really fast really hurts really bad.  Okay duh right?  Well, I forgot about this.  You see, the only time I run really fast is when I'm racing, and during a race there are a million factors motivating you, pushing you, and distracting you to where you aren't FEELING as much.  Races can be painful, but it's a race, and it just feels different.  My morning runs are never done faster than tempo pace (7:30ish) and even that feels really uncomfortable to me in training.  To meet my goal pace of 6:45 for the 5x 800 I was asking more of my body in training than I ever have.  Of course it is going to hurt!  Good reminder.
2. It makes more sense to time yourself by minutes:seconds rather than pace.  For 800's I noticed that it was hard to keep my pace down at 6:45 through both laps, my pace was varying between 6:35 and 7 at different points.  I was better off timing myself for the laps, it just seemed to make more sense this way.  So I wound up aiming for 3:20-3:25 per 800, and it turned out to do that I had to run as fast as I could.  I'm pretty sure this was right at my VO2max.  The reality was that the first 2 800's were 3:24 and 3:25, the third was 3:29 and the fourth and fifth were 3:30.  I might have been able to push a little harder in the last couple, but since I'm not used to speedwork I get a pass!
3. The jogs in between the speed intervals are like a big peanut butter cookie dough fudge sundae with 3 cherries.  There is no other way to describe them but delicious.  Slow running feels so good after fast painful running.  I could get addicted to speed workouts based on that feeling alone!
4. I should've eaten a banana beforehand, or at the very least a gel.  I do all my runs in a fasted state right after I wake up and normally I feel great.  But my normal runs aren't fast.  I wonder if I would feel better and have more stamina in the later intervals if I had some quick carbs to burn off beforehand.  My pre-race fuel is always a banana and a gel, so for my next speed session I will plan to have either a gel or banana before I leave and see if I feel a difference.
5.  Discipline is more easily executed when there is a detailed plan to work with.  When there is a vague "plan" in mind (like "run fast for 3 miles") I have a harder time disciplining actions in a productive way .  When there is a plan outlined with specific steps, discipline becomes very simple because I have a sense of the entire picture and the specific short and long term goals.  Although I don't like when my whole training plan is filled with detailed instructions (this makes me rebel bigtime), once or twice a week it's nice to have a workout that will require specific actions at different times.  It becomes an exercise in physical, psychological, and emotional discipline that leaves you with greater faith in yourself and commitment to your goals.  When you observe yourself taking action toward an important goal, it just makes you feel good about life!
How often do you do "workouts" and how do you feel about them?  How have speed workouts helped you reach your training and racing goals?  How do you discipline yourself to run fast in training?