Now that I'm two weeks shy of Boston and in full taper mode, I'm reminded of why the taper before a marathon really is harder than the last long run.  Like physically, mentally, spiritually (okay scrap that one) tougher than running for 3 hours straight without stopping.  If you've trained for a marathon you've likely noticed this too, and at first you might have felt confused.
"Shouldn't I be thrilled that the hard work is done?   Why am I freaking out?  But more importantly, why am I winded going up one flight of stairs?  And why does my left knee hurt?  And how did I gain 40 lbs this week?"
Some thoughts on the phenomenon: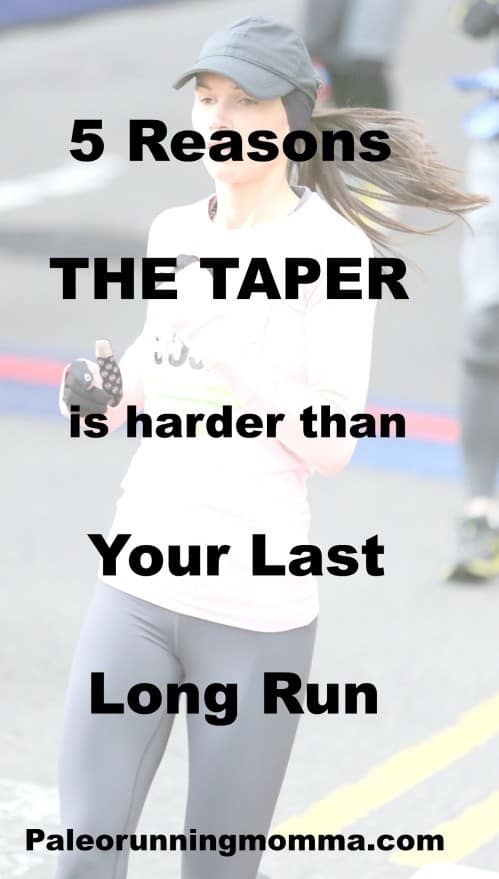 1. During your 20 miler your knees and hips start to ache around mile 15.
During your taper, various new and old pains begin to appear in multiple body parts from the waist down all day long everyday. Plus you are sure you gave yourself a stress  fracture from walking up the stairs in your house carrying a laundry basket.
2. During your long run you take in lots of extra carbs and worry about replacing all your calories.
During your taper you analyze every bite of food you put in your mouth for 2 weeks but are still certain you will show up at the start line at least 10 lbs heavier and how are you supposed to run the marathon 10 lbs heavier?
3.  During a long run you listen to music and dream of crossing the finish line of your marathon.
During your taper you read all the running literature you can access to make sure there is nothing else you can be doing to achieve your goals.  You do this every day for two weeks.  It's not fun or educational, it just sucks.
4.  During your long run you feel completely confident in your training.
During your taper you can't even remember if you trained at all.  Did it really happen or am I losing my mind? Both.
5.  After your long run you walk in your house feeling like you just won a gold in the Olympics, make some delicious food and curl up in bed daydreaming about being awesome.
After your taper you walk to the start line and then GO. RUN. THE. FREAKING. MARATHON.  blargh!!
Share your taper thoughts in the comments!