I'm so happy to be reporting my 3 week experience using VSL#3 today! I have nothing but great things to say, as VSL#3 easily fit into my routine and made a positive impact on my life and the dietary management of my IBS symptoms.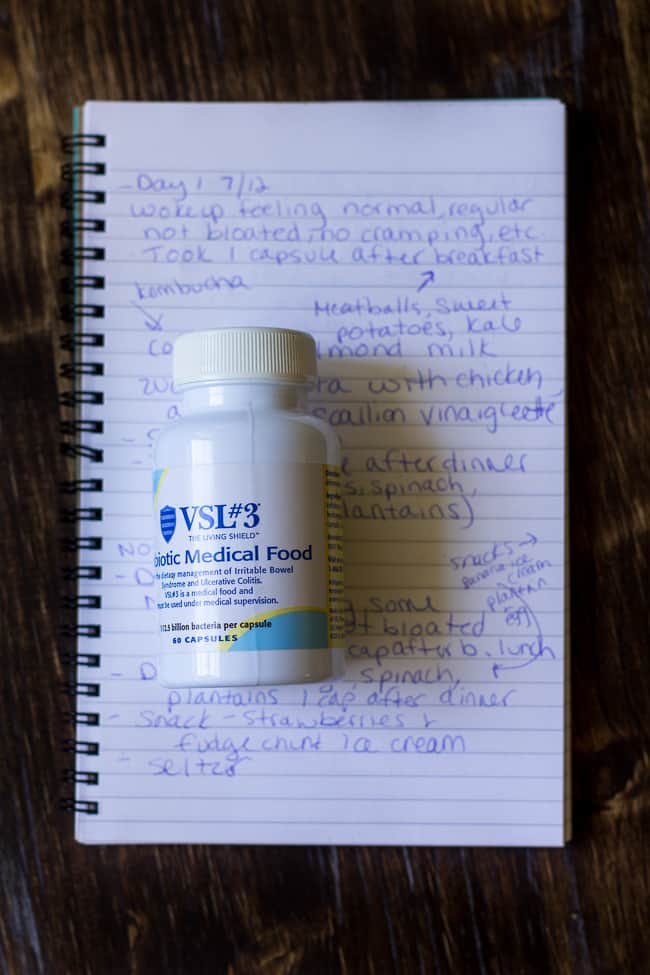 VSL#3: A High Potency Medical Food:
As a refresher to my last post announcing my journey with VSL#3, VSL#3 is a high-potency probiotic medical food that is clinically proven in the dietary management of irritable bowel syndrome (IBS), ulcerative colitis (UC) and ileal pouch.
Prior to beginning my VSL#3 journey, I, like many people, didn't fully understand the importance of choosing the right probiotic based on your condition. I had basically given up on buying probiotics in favor of drinking them (in my homemade kombucha!), but, after taking VSL#3, I've found that this probiotic specifically formulated for the dietary management of serious gastro conditions like IBS, seemed to help with symptoms I wasn't even aware I was experiencing.
Over the first week of using VSL#3, I began with 1 capsule twice per day and recorded what I ate, any symptoms and how I felt in general. Almost immediately, I noticed a reduction in gas and bloating – symptoms that I never truly considered "symptoms", mainly because my other symptoms were always so much more severe.
After about one week, I increased to 3 capsules per day and continued to feel well. During this time, I continued my usual Paleo diet that is probably 90% low-FODMAP as well, give or take cooked onions and onion powder here and there, along with cooked broccoli.
Speaking of low-FODMAP, VSL#3 has a ton of IBS-friendly low-FODMAP recipes on their website that you should check out – http://www.vsl3.com/discover/IBS-friendly-recipes/
I seem to always be the most vulnerable to gas, bloating and pain during mid-cycle (my symptoms seem to be connected to hormones to some extent) and I experienced significantly less discomfort this time around than usual. Yes, I probably ate "better" – low-FODMAP wise, during this time, which no doubt also has a positive effect. The combination of VSL#3 plus low-FODMAP eating definitely did not let me down!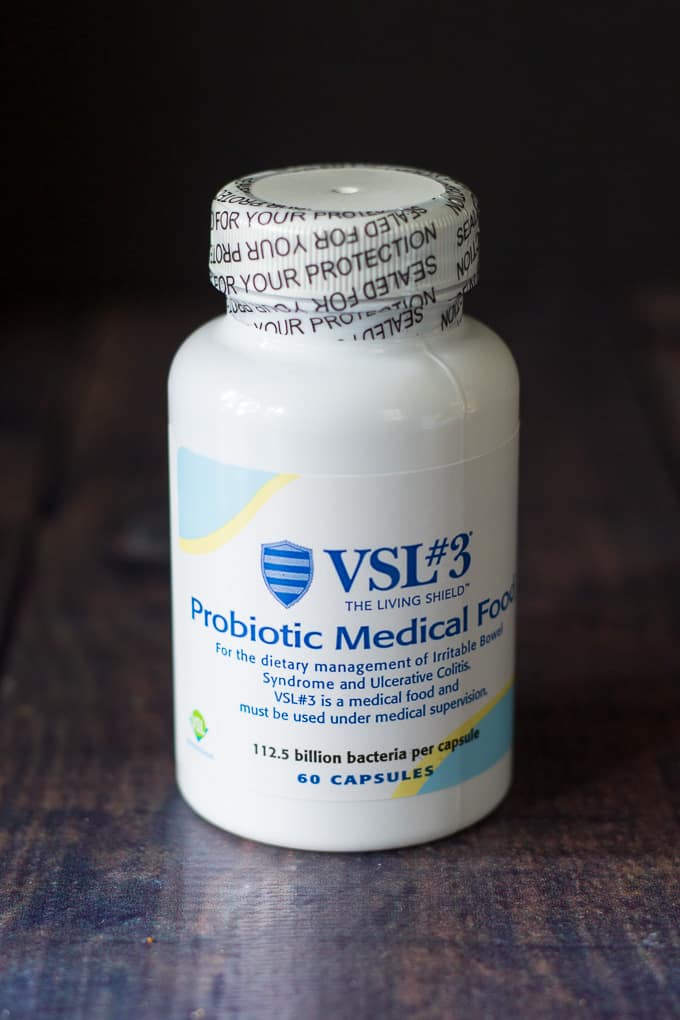 A few more VSL#3 facts of interest:
VSL#3 is the only high-potency probiotic medical food that has been recommended by the Triennial Yale/Harvard Workshop for the past 10 years showing benefits for patients suffering from Ulcerative Colitis.
VSL#3's strong legacy and loyalty is based on recognized scientific principles and backed by a company that has been dedicated to manufacturing the most high quality brand that physicians can depend on for their patients with serious digestive disorders.
VSL#3 products must be refrigerated to maintain potency.
VSL#3 is available at your local pharmacy. Please ask your pharmacist for VSL#3 as it is kept refrigerated behind the pharmacy counter.
Probiotic Info:
Probiotics work in three areas of the gut – the microbial barrier, chemical barrier and physical barrier.
It is suggested that adults should take at least 1 billion cells (also called colony-forming units or CFU's) daily. VSL#3 has at least 112.5 billion CFU's.
According to a Harris Poll* conducted on behalf of VSL#3, the following was found amongst 607 U.S. adults ages 18+ who have been diagnosed with irritable bowel syndrome (IBS), ulcerative colitis (UC) or ileal pouch:
Nearly half of IBS, UC, Ileal pouch sufferers (49%) are not at all knowledgeable about the differences between a "medical food" and a "dietary supplement."
VSL#3 Patient Savings Program
Now you can take part in VSL#3's new Patient Savings Program. Simply print out this VSL#3 Patient Savings Card (http://www.vsl3ds.com/?fb) and bring it to your physician to receive a prescription for VSL#3. Then take both the script and the Patient Savings Card to your pharmacy and save up to $80 each month on your purchase of VSL#3 unflavored packets or VSL#3 DS. This is the largest savings ever offered for both VSL#3 and VSL#3 DS. Visit here (http://www.vsl3ds.com/?fb) for more information and talk with your healthcare provider today to take part in the savings program!
After having my postive experience with VSL#3, I would definitely recommend that others suffering with IBS talk to their doctor about trying VSL#3. In fact, I've already recommended that my dad talk to his doctor about it, since he experiences similar symptoms to my own.
For more information on VSL#3 please visit www.vsl3.com. Thanks for joining me on my #VSL3TheJourneyBack!
To purchase VSL#3, visit http://vsl3.com/pharmacy-locator/ to find a VSL#3 in local pharmacy near you or order it online at https://shop.vsl3.com/vsl3-c2.aspx.
Join VSL#3 on Facebook for giveaways and exclusive offers: www.facebook.com/vsl3probiotic
Check out their series of videos packed with helpful info about IBS and UC at www.youtube.com/userVSL3probiotic
You can find delicious IBS friendly recipes at http://www.vsl3.com/discover/IBS-friendly-recipes/
*Harris Poll conducted the GI Issues Survey on behalf of VSL#3. The survey was administered online within the United States between April 1 – 7, 2015 among 607 adult's ages 18+ who have been diagnosed with a digestive or gastrointestinal condition, irritable bowel syndrome, or ulcerative colitis, ileal pouch ("sufferers").
VSL#3® is a high-potency probiotic medical food that's clinically proven in the dietary management of IBS, ulcerative colitis, and ileal pouch. To learn more visit www.vsl3.com and LIKE the brand on Facebook.
This is a product-provided, sponsored conversation that contains affiliate links. All opinions, text and experiences are my own. VSL#3 is a high-potency probiotic medical food for the dietary management of IBS, UC and ileal pouch and must be used under medical supervision. Please speak with your healthcare provider for any specific questions. These statements have not been evaluated by the FDA. The product is not intended to diagnose, treat, cure or prevent any disease.