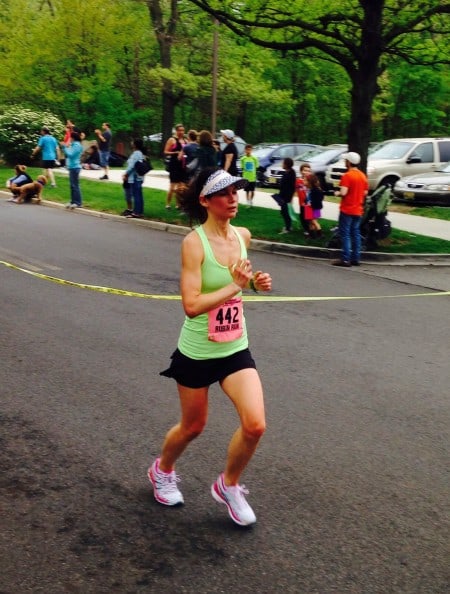 I am sweating uncomfortably just looking at the above photo.   I know I said last week that I wasn't putting pressure on myself to "race" this 10k, but when it came down to it, in my heart, I guess I knew I WANTED to race and I was letting the weather forecast frighten me into submission.  I haven't run a race since my January half since one race was cancelled due to snow and another I couldn't run due to a schedule conflict.  Plus, with my plans to take a breather from running altogether for the next two weeks, I figured I'd put myself out there and see what would come of it.
The great thing about the Rubin Run is that it takes place at our local JCC, 5 minutes from my house, where my son goes to preschool and my daughters take dance.  We're there A LOT, going there is a completely normal event, which takes the edge off to begin with.  No typical pre-race worries about logistics = less nerves for me!
I didn't actually make the decision to push myself until about 7am the morning of the race.  I had a banana and water, got dressed, got Emily dressed for the 5k, and we all left a bit after 8am for the 8:30 start.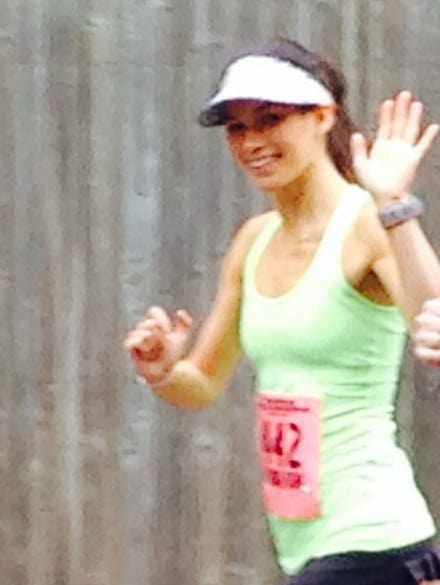 Let's just bi*ch about the weather first and then you won't hear it from me again, promise!  It was in the mid 60's and really foggy/humid.  Because I'm a weather dork I checked, and it was 95% humidity.  Just yuck.  Luckily though, it was so foggy there was no sun at all for the 10k, a big thing for me since I'm a running vampire and all.
The 10k
The race starts off on a nice little downhill out the driveway, but that's really all you get of nice downhills for most of the race.  It's not super hilly, considering the area itself is, but you do have some rolling hills and inclines that are very much felt when you're pushing hard.
At last year's race, I started off right in the front and way too fast (I think running Boston had inflated my ego or something) so I made sure to start a bit further back because with the initial downhill and all that energy at the start, it's so easy to go too fast!
I still sort of went too fast, but not by much and I don't think going more slowly would have made much of a difference.  My first mile clocked in 7:21, when I was thinking of trying to maintain 7:30 even splits.  I had a loose goal of 46:30 which I felt might have been a stretch with the weather but still possible.
Through the second mile I felt great (isn't it always that way?!) the adrenaline was going, I felt like I was flying, sweat wasn't burning or blinding me yet and we also hadn't hit the hills.  Mile 2 clocked in at 7:18 (just couldn't help myself!)
At the beginning of mile 3 there's a significant hill, you really can't help but slow down.  I find that in the humidity it's the recovery after the hill that just feels way harder for me than in cool weather.  Mile 3 was 7:40, not surprising at all since I remember this being the case last year as well.
By mile 4-5 I wanted to die but I told myself that if I kept under an 8min/mile pace that I'd be done in about 15 minutes and clearly anyone can do nearly anything for 15 minutes (so not true, but works in a race.) Miles 4 & 5 were 7:48 and 7:39.  The last mile involves 2 hills, and that's the time, both this year and last year, I just was curious how much I could actually push without puking.  It's a genuine question at this point of a 10k. I really didn't have much, if anything, left and mile 6 plus the last .2 were 7:42 and 7:45.  I forgot to stop my watch at the end because I pretty much always forget to do this, but my official time was 47:05.  Last year's was 45:49 and I really think the weather made a difference for this year, although coming off of Boston last year probably left me slightly more fit too.
And the 5k!
I finished with 40 minutes to go before the start of the 5k, a perfect amount of time to drink water, eat something, get Emily ready and make a bathroom trip, and build up those last minute nerves that give any race a bit more "oomph."
I was chatting with other local moms up until about 10 minutes before the start, when Emily started pulling me toward the start line, not wanting to "be late."  Of course there's no way I would ever let that happen, but, I was beginning to get a little mirror glimpse into my own personality when it comes to racing.  No, my own 6 year old daughter did not trust that I would not screw up this race for her 😉 But she clearly was trusting herself!
I explained why we couldn't line up right in the front, and though she wasn't completely buying it, we settled on middle-front.  In the runs we did together, she always ran the whole time and we'd kept about an 11:50 pace overall, though all these runs were much cooler than the weather Sunday, which by 10am had warmed up to low-mid 70s, humid, and some sun.  I figured we'd do the first half around that speed and then pick it up if she wanted to later.  One notable feature of the course though, is a significant hill around 1.5-2 miles.
The first mile was fun, although with everyone around us still running, and some running pretty fast, Emily asked me if we could speed up a bunch of times.  I kept reminding her she still had a long way to go, but we still wound up clocking in the first mile at 11:10, faster than I thought we should've.  She seemed completely fine and said she could keep up the pace for a long time so I went with it.
During mile 2 there's a loop of a downhill followed by an uphill – according to my Garmin it's around 50ft of loss and gain.  I seriously felt like I was watching myself race the way she naturally approached the hill by remaining steady and confident but then struggling once it was finished.  There was no way she was stopping though, and mile 2 was 10:34.
Mile 3 of this race was tough, because you're tired from the hill, the weather was hot, and there's a bit of elevation gain just when you think you're almost there.  She struggled a bit the last mile, and once asked me if she could stop, but I told her that we can slow down, but stopping will feel worse.  From 2-3 it was a combo of sprint/slow down and me telling her the distance and minutes left, which she likes to hear (as in .5 left, 5 minutes if we keep going.) Lots of encouragement from me here and I was really excited for her, since at this point I knew she'd complete it a lot faster than we did in our weekend runs.  Mile 3 was 10:25!
Once we had just .1 left, she sprinted up the final hill FAST and we crossed the finish line with a bang!  She completely dug in at that point, and it all came from her, she didn't need anything from me whatsoever.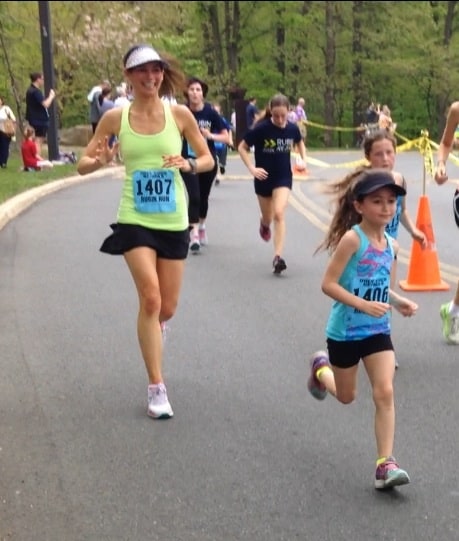 Of course just like the 10k I forgot to turn my watch off for several seconds, so the 33:22 was just a bit off.  After Diana danced Emily was eyeing the trophies and pulling me toward them.  I'm usually the one who leaves without even looking, but,  she REALLY wanted a trophy and needed to find out if she'd earned one.  Turns out she was 9/72 in her AG (under 9) but no top 3 so no trophy.  They actually only timed by the clock so being the crazy mom I am I'm still a bit curious what her place would've been if they'd tracked the chip time!  No worries though, since luckily I somehow pulled off 3rd in my AG with the 47:05, and grabbed my trophy to hand right over to her. She honestly just wanted ANY trophy and was perfectly happy with it 🙂
I think this might have been my favorite race day thus far, isn't that funny?  Of course later that day Emily told me she'll be walking at next year's race.  That sounds exactly like something I'd say (like how 4 days ago the 10k was supposed to be a fun run?) but I have a feeling she'll be back next year looking to break records 🙂
Have you run a race with your kids?
Did you run races with your parents when you were little?
Do you find it hard not to "race" on race day?