By the time I was 6 or 7 years old I knew I wanted to be beautiful.  I started obsessing over pop idols like Debbie Gibson and Tiffany, actresses like Alyssa Milano and the Saved By the Bell chicks, models like Cindy Crawford and later on all the 90's supermodels.  Since I was always a serious-student type I studied everything I could on how to be beautiful.   As I found out, there were plenty of things I really needed to do to increase my chances.  Even better was that over several years of observing, reading and listening I learned that there were actual rules I could and should follow if I wanted to be beautiful, like, at all.  I always appreciated rules because they seem to make things simple, and, man, as a 7 year old rules were kind of all I knew of life anyway.
 My sarcasm (yes that's what it was) stems from the anger I still have toward society about making me think that being beautiful (according to BS standards) would make me worthy, happy, more confident, more exciting, and overall make life more awesome.  And then as if that wasn't enough garbage to feed to a child, I'm angry that little girls are sent messages about "beauty rules" they should follow in order to be beautiful.   Some of them are funny (this is from the 80's and 90's of course) and some still make my blood boil with the time, money, and emotion I've invested over the years.  So here it is, 10  "beauty rules" I just won't follow anymore.
1. Design and stick with a solid skin care routine.  No thanks.  The time and money I've invested in getting my skin "just right" makes me want to throw up.  Sometimes my skin breaks out but most of the time it's acceptable.  Dark circles do not need to be corrected, every blemish doesn't need to be erased either with medicine or concealer.  Can't we just have human looking skin and be okay?  Plus, since much of our overall health originates in our digestive process, figuring that out and healing your body from the inside often clears up lingering skin issues.  But really, what angers me the most about this approach to skin care is that it sets up an ideal and many women waste so much of everything trying to "get it right."  I'll just live with the skin I'm in at this point.
2. Trim your hair every 8-10 weeks.  No, I won't.  I will cut my hair when I feel like it thankyouverymuch and no I don't think even a lot of split ends ever killed or even hurt a person.   Why the obsession with split ends anyway?  Just another way to make people feel bad enough to shell out lots of $$$ for a hair mask or deep conditioning treatment.  And lots of expensive haircuts.
3. Those eyebrows need to be shaped!  I've totally given up on this.  My eyebrows are what they are and I'm done fighting with them.  Besides they're so traumatized from trying to be perfectly shaped for 15 years they just quit on me and they deserve a dang break.  Sorry eyebrows, just rest and grow as you wish.
4. Count calories, because if you don't you might be eating 10,000 without knowing and wind up 400 lbs by the time you're 30.   Don't think I was getting through a list post about rules without bashing calorie counting.  This was one of the first things I ever learned about nutrition and one of the most harmful, for sure.   Counting calories will not help you with weight and will not make you beautiful.  Counting calories will not give you control over what you eat, it will take it away because when you count you are following someone else's rules for your body, not YOUR BODY'S rule.  I don't know if that makes sense, but hopefully you see what I'm saying.  It's ineffective, harmful, and leads to problems.
5.  Dress for your body type.  Sure, at first glance I'm all for wearing jeans with big back pockets and the correct placement on my ass to make my bottom half morph into Beyonce's, but then, I realize that the magazine doesn't really want to lift my sorry ass and just wants to sell me jeans.  Dang.  I'm not a fan of advice like this because it sends the message that our bodies need to be "fixed" with clothing and we shouldn't just wear what we want.  I don't believe we should dress with the purpose of creating an optical illusion that puts us closer to "perfect" beauty standards.  If we do this we wind up starting our day off trying to change ourselves instead of loving and accepting our bodies as they stand in the moment.  Then we just wind up setting ourselves up for more body and beauty bashing.  Dress for YOU, not for your "shape."
6. Get that "no makeup" makeup look right!  I struggled with this for way longer than I ever should have.   It's not that I don't wear makeup now, but I've given up trying to look like I'm not wearing it.  I wear makeup and you'll most likely know I'm wearing it when you look at me.  No more trying to perfect the "nude" face.  I think it just makes us feel bad for not looking that way to begin with.  As if we're supposed to trick people into thinking we just rolled out of bed that way.  So silly, so fake, so done with it.
7. Hair washing.  Seems like everyone has big opinions on hair washing, whether it's the old "lather, rinse, repeat" or the more recently popular don't wash everyday, or don't use shampoo, or whatever the new trend is for how "clean" your hair should be.  I don't care what anyone has to say anymore, I follow my own feelings on this.  I run almost daily and have fine, oily-ish hair so that means I wash every day because that makes me feel good.  Everyone has different hair, a different lifestyle and different preferences, so why do we listen to outside advice on this?
8.  Dress your age.  I honestly don't even know what this means anymore.  What I do know is that I was waiting so long to wear certain things, wore them for a year, and then felt too old to wear them anymore (miniskirts?) So I'm not following this "rule" anymore, because I was really never good at it.  In some ways I dress "younger" now than I did when I was 12.   So I'm just gonna go with my gut on my personal style and what feels right, and not worry about being age appropriate.  Also I hate that word appropriate, probably because I'm just not.
9. Boys like girls who look XYZ so you should look XYZ.   XYZ refers to way too many stupid things because I paid a lot of attention to this one growing up and had a lot of ideas swimming in my head.  Some off the top of my head starting at age 10 were – wear ponytails, wear hair down, wear no makeup, wear a lot of makeup, look sporty, look feminine, wear dresses, wear jeans, have big boobs and a small waist (hate this one!) have long hair, wear tight clothes, wear high heels, wear baseball hats.  Weird XYZ list right?   How did I EVER subscribe to any of this nonsense let alone for 15 years?   If there's one thing my daughters will learn from me (besides not to count calories!) it's to work on accepting themselves as-is rather than trying to be anything for any boy, real or hypothetical.
10.  Wear blue eyeliner and eye shadow to bring out the color of brown eyes and brighten the whites.  Sorry Debbie and Alyssa, blue eyeliner just made me look like a flipping idiot and did nothing for the whites of my eyes.  I will not follow that rule, but I will always maintain that you guys looked cute in all your blue eye-shadowed 80's glory.   And I forgive you for giving me crap beauty advice, sort of 😉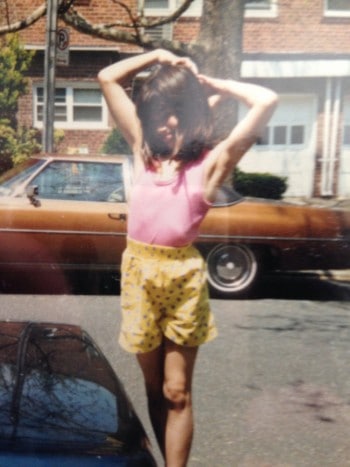 What beauty rules have you left behind and which ones do you still follow?